Kadapa: Kasunuru Srinivasulu Reddy, one of the suspects in the Andhra Pradesh Chief Minister YS Jaganmohan Reddy's uncle and former minister YS Vivekananda Reddy murder case, allegedly committed suicide on Monday night in Pulivendula police station limits. Srinivasulu consumed pesticide crystals on Monday night and ended his life due to alleged police harassment. Family members of Srinivasulau after noticing shifting him to a private hospital in Kadapa for treatment where he died.
Srinivasulu wrote a suicide note in which he alleged that the police were harassing him and his family members. "Particularly we are unable to tolerate the harassment of the inspector Sriramulu of Pulivendula police station," he mentioned in the note. The police found the note and handed it over to his family. Srinivasulu belongs to Kasunur village in Simhadripuram Mandal of Kadapa district. Before committing suicide, he wrote two separate letters to Chief Minister YS Jagan Mohan Reddy and Jagan's kin YS Bhaskar Reddy. In the letters, the victim mentioned he didn't have any involvement in the Vivekananda's Murder.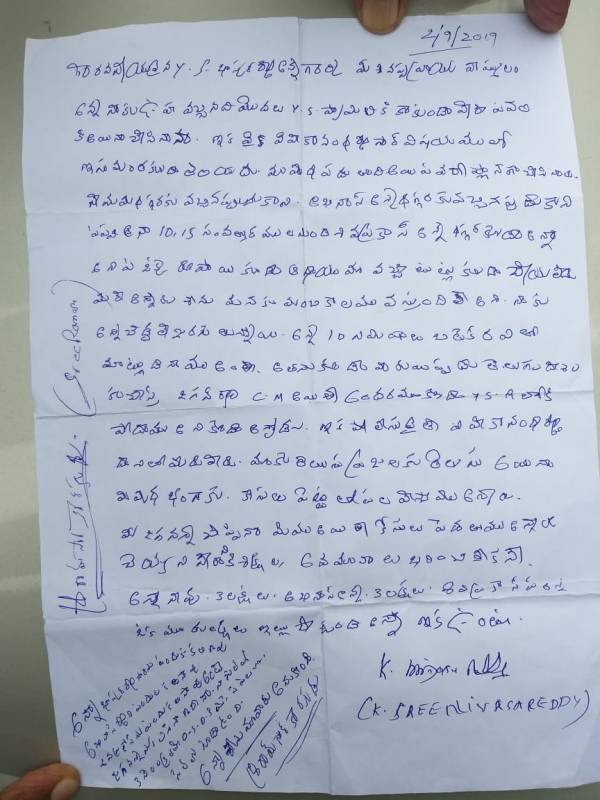 After Jagan took over as CM of AP the enquiry on Vivekananda Reddy Murder case was fast-tracked. The Special Investigation Team reconstituted for this purpose had sent the suspects in Viveka's case for Narco analysis tests. Police also sent Viveka's watchman Rangaiah, Yerra Gangireddy, Krishna Reddy, Prakash and Sekar Reddy for the Narco analysis test in Gujarat forensic lab. The SIT had interrogated almost 1400 persons in this case. The accused Gangireddy, Krishna Reddy and Prakash completed their 90 days remand in jail.
Since the police failed to submit their charge sheets within the stipulated time, the court granted them bail on July 27. The accused that committed suicide is a very close relative to Parameswar Reddy. The Director-General of Police, Gautam Savang requested details about the death and ordered Kurnool IG to send him a comprehensive report.
YS Vivekananda Reddy was murdered in March 2019 just before elections.