Hyderabad: The collector of Jagtial commenting on Rashmika Mandhana's pictures uploaded on Twitter were shown in TV channels, which also went viral on social media. A collector commenting on an actress's pictures had become the talking point for people.
It was on Wednesday at around 2:38 pm when a comment that read "Chinchav Po Rashmika" was posted on a picture of the actress from the account "[email protected]". As the comment was posted, twitterati were shocked. As the comment went viral once and for all, all the official departments faced a lot of trouble. While at the same time, Collector Ravi was in a official meeting with minister Koppula Eashwar. It was only 15 days since the collector had joined his duties and isn't using his Twitter as well.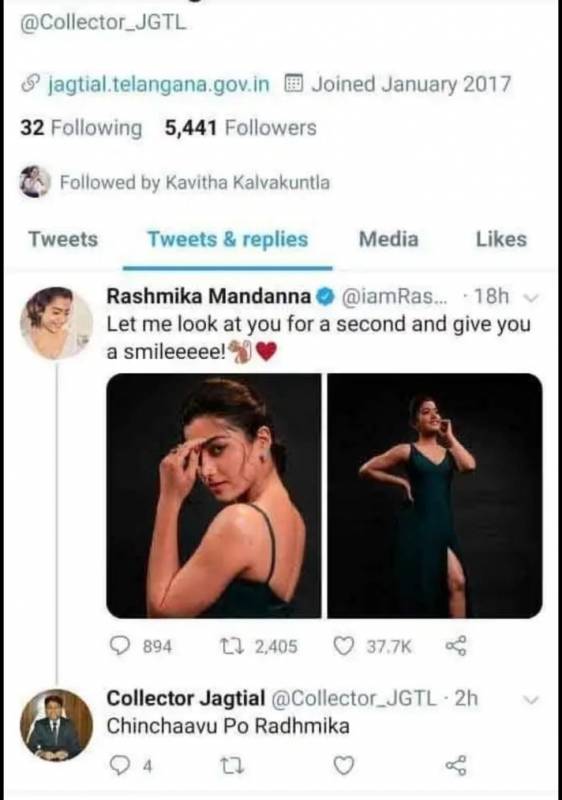 As the Ex collector was in charge, his employee Prasad was using it. The collector has also clarified that he doesn't have a Twitter account.
Speaking on this, Collector Ravi said that he doesn't have a Twitter account and not even has time to use one. He also said that he was in a meeting with Minister Koppula Eashwar regarding the Brahmotsavam. A complaint regarding this has also been registered. He also said that there was a Twitter account of the collector when the old Collector was there and his employee, prasad was the person using it. He should be questioned, said Collector Ravi. He had also told to check whether someone else had done it. Investigation regarding this is being done under the leadership of the SP.
As the DRO Jagtial complained in the local police station regarding the Collector's Twitter getting hacked, Jagtial CI has booked a case under Cybercrime and sent it for investigation to the department.
The people using Collector Ravi's account, namely contract employees Prasad & Mamata have been fired.