Delhi: As many as 4,000 students from Jawaharlal Nehru University in Delhi staged protests on Monday against the proposed fee hikes by the University administration. According to the Draft Hostel Manual, the total hostel fee, which was Rs 2,740 per month, is now proposed to be hiked to Rs 7,000. Admission fees have been increased to 12,000 from Rs 1,500.
The protests occurred during the third Convocation ceremony at the university campus today. Reportedly, Union Human Resource Development (HRD) Minister Ramesh Pokhriyal Nishank was stuck inside the AICTE auditorium inside JNU for a few hours after students clashed with police forces who rushed to the campus to control the students. Students alleged that police used water cannons against them to control the protest.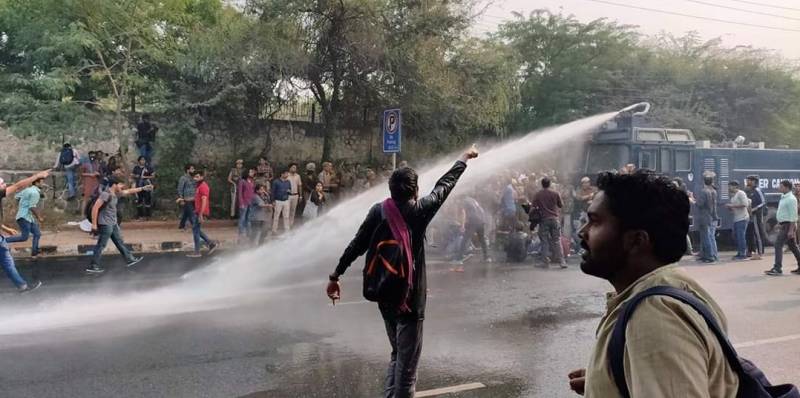 The students went to the convocation venue to register their demands and protests before the Vice President of India Venkaiah Naidu, and Ramesh Pokhriyal. Students alleged that JNU administration conducted the annual convocation, amidst the ongoing struggle and crisis in the campus.
N Sai Balaji, former President of JNU Students Association and AISA National President told NewsMeter, "JNUSU salutes the spirit of thousands of students who are resisting the fee hike and imposition of regressive and patriarchal rules in the name of Hostel Manual. Due to the 999 per cent fee hike that is being imposed on us, the university, today, faces an unprecedented crisis, with an overwhelming number of its students facing a threat to their academic future. For a university, where a majority of students come from the most marginalised backgrounds in this country, it is no wonder that many of the degree-receiving students participating in the convocation also joined the protest. However, it is condemnable that Delhi Police resorted to unprovoked violence on students, using water cannons. Many students have been injured by this action."
Another student added, "The meeting on hostel rules should be reconvened in the presence of student representatives and all regressive parts pertaining to clothing, timings etc. must be revoked. The 999% fee hike from Rs 2,740 to Rs 30,100 annually must be rolled back immediately. We seek an immediate resolution on the part of the MHRD and the JNU administration on this matter and hope all these anti-student policies will be rolled back."
In an official statement, the JNU Students Association said that they would intensify their protests if their demands were not met. "We appeal to all citizens of this country on whose taxes this university runs. JNU remains a university, which is still accessible to the poorest and most marginalised sections in this country, and this present move is a brutal attack on not just current students but on all everyone from such backgrounds who fight and aspire for higher education. This is why the protest would only intensify if the demands are not dealt with soon."