NewsMeter Network

Srinagar: Amidst reports of Operation Kashmir, tourists started evacuating the valley and NIT Kashmir has asked students to evacuate the hostels. People were seen rushing to petrol pumps and stores to stock up fuel and essential commodities as panic gripped the area.
NIT Srinagar hostels are being vacated and Students are directed to leave by Saturday morning. Several Telugu students are returning from NIT Srinagar.
Jammu and Kashmir former Chief Minister Omar Abdullah tweeted," Friends staying in hotels in Gulmarg are being forced to leave. State road transport corporation buses are being deployed to bus people out from Pahalgam & Gulmarg. If there is a threat to the yatra why is Gulmarg being emptied?"
He further tweeted " I have so many questions and not a single answer. I have met people today who occupy important positions to do with J&K, not one of them was able to tell me anything and I have been Chief Minister for 6 years. Imagine the plight of your everyday Kashmiri who doesn't know what to believe,"

Leaders of various political parties in Kashmir met the Governor Satyapal Malik and requested him to dispel rumours that have caused a sense of panic in the valley. Kashmir political parties have been opposing the move to remove article 35 A.
President of the Jammu & Kashmir Peoples Democratic Party and former Chief Minister Mehbooba Mufti questioned, "There is complete chaos on the streets of Srinagar. People rushing to ATMs, petrol pumps & stocking up on essential supplies. Is Government of India only concerned about the safety of yatris while Kashmiris have been left to their own devices?"

"Folding hands is not permitted in Islam but I am requesting my countrymen and the Prime Minister that please do not tinker with Article 35A. It is the only Muslim majority state that rejected the two-nation theory and joined a democratic and secular India based on the guarantees.
Jammu and Kashmir Governor Satya Pal Malik on Friday evening asked the delegation of politicians who met him "maintain calm and not believe rumours"
Rajbhavan in a statement "Unnecessary panic is being created by linking this to all kinds of other issues. A pure security measure is being mixed up with issues with which it has no connection. That is the cause of the panic," Shahid Choudhary District Magistrate & Development Commissioner, Srinagar said ,"In Srinagar district we have sufficient stocks of all essentials including food, fuels and medicines. Roads are open, replenishment is routine. People are requested to avoid hoarding and panic shopping. We will notify when we issue closure order. Our 900 schools/Kendriya Vidyalayas are open today. We have objected to NIT claim of district administration directions to close institute. Citing Some triggered panic among parents they sought transportation help for limited numbers. We assured full security in campus too,"Director-General of Civil Aviation has issued an advisory to flight operators to ensure extra flights are operated in and out of Srinagar.

Operators Indigo, Vistara Airlines and Air India tweeted "Given the current security situation in Srinagar and the Government advisory regarding it, we are providing a full fee waiver on rescheduling and cancellation for all flights to and from Srinagar till August 09, 2019.,".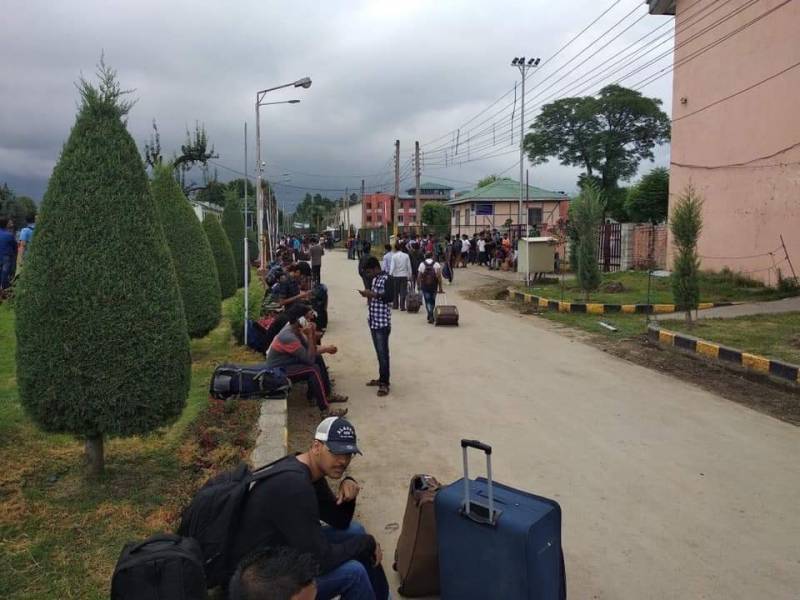 Meanwhile, KTR, Working President of Telangana Rashtra Samithi tweeted and reached out to students stranded in J & K looking for assistance and assured them of assistance to get them out of the valley.
There's a helpline for students or parents looking for assistance through which citizens can reach out to the Resident Commissioner, Sri Vedantam Giri ,Telangana Bhavan at New Delhi at 011-2338 2041 or on his mobile +91 99682 99337.