Hyderabad: Kathi Mahesh, known for his controversial remarks, seems to have landed himself in a fresh controversy with his recent remarks about Lord Rama. In a video that is going viral, Kathi said Lord Rama used to enjoy the company of several women in his Antahpuram (royal palace) of Ayodhya. His comments have raised the eyebrows of many netizens who have demanded action against Mahesh for disturbing religious harmony and hurting the sentiments of the devotees of Lord Rama.
Mahesh made these comments while addressing the Bahujana Sahitya Jatara last Sunday in Hyderabad. Devotees and Hindu organizations have demanded that a case be filed against him.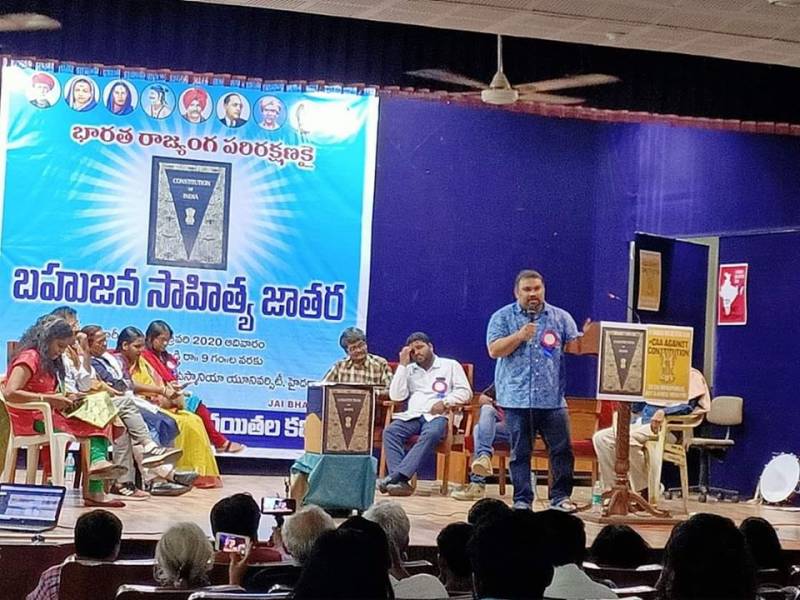 Meanwhile, Mahesh, in a Facebook post, wrote, "RSS/BJP/VHP somehow managed to indoctrinate youth below 30 years of age and turned them in to fundamentalist. It is scary to listen to their language of hatred, violence and madness (sic)." In another post, warning people who wanted to file a case against him for his derogatory remarks on Lord Rama, he wrote, "I am a frightful Hindu than you people. Be careful with me. I am Dalita Charvaka."
S. Lakshminarayana, a Hindu Vahini activist, said Mahesh appears to have invited a battle with Hindu organisations this time by making such comments. However, some in the political circles think differently. "It seems he wants to draw the attention of YSRCP Chief Y.S Jagan Mohan Reddy by posing himself as an anti-Hindu activist," a TDP leader said.
Mahesh is a writer and director who has also acted in a few films. He co-wrote the Telegu film 'Minugurulu', which was the Telugu film industry's official entry for the Oscar nominations in 2014. He was earlier embroiled in a controversy over his comments against Jana Sena Chief Pawan Kalyan. He came to the limelight by advocating a new political philosophy of working against the feudalistic forces in politics.