NewsMeter Network, Hyderabad
Students of St. Francis college can only wear Salwar-Kameez and long kurtis to college says a notice issued to them last week. The dress-code notice to students led to outrage among the students who are against the new rules set by their college.
The students alleged that they were informed verbally about the same few days back after which they were given a notice and were also informed on Whatsapp groups through class representatives to follow the new dress code from August 1,2019.
A Whatsapp text was sent to students by their class representatives in a Whatsapp group stated, "Important notice: From August 1,2019-Knee length Kurtis with Sleeves, Compulsory Dress code. Those not in the dress will be sent back home. Wearing ID compulsory as well".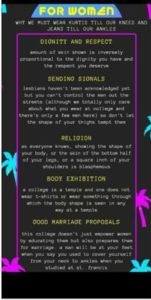 The students claimed that they had already been previously asked to sign an undertaking stating that they will never wear crop tops, dresses, skirts or sleeveless tops to college.
Despite protesting against the new dress-code rules by college authorities the students did not get any response from the college authorities alleged the students. One of the agitated student with the condition of anonymity told NewsMeter, "A week back the college authorities informed us to be in our new dress code which is Knee Length Kurti but initially they made us sign an undertaking stating that we were not supposed to wear sleeveless or cold shoulders".
"During the middle of the session they changed the dress code and from last two days they are monitoring our dress code at the college gates and not letting students in even if kurtis are an inch above our knee", the student further added.
Another student stated, Instead of progressing this college is going backwards where we don't even have our basic freedom and right to choose what we wear". The college authorities were not available to comment on the same.