Hyderabad: Thanks to this police officer, a man from Himachal Pradesh got his appendix operation done on time, without hiccups. Even as the state is reeling under the COVCID-19 pandemic, kind hearts such as this officer's, have ensured that citizens are not made to suffer.
Lalit Kumar, an employee at Hyderabad Metro rail has been suffering from appendicitis and was in need of an operation. However Lalit, who is a native of Himachal Pradesh, was unable to bear the costs of his own surgery.
That was when B. Lakshminarayana Reddy, Inspector of police, Kukatpally, came to his rescue. After getting Lalit admitted to Omni hospital, he even paid the medical bills of Lalit Kumar, which amounted up to Rs 20,000, at his own expense. In his own words, "It was just a natural decision. At that point in time, the patient was in short of money, and I, as a police officer, felt that it was my responsibility to ensure that he was safe. That was all I thought," says the police officer.
The police officer had got the call from the Telangana state COVID-19 control room on April 16, saying that a person from Himachal Pradesh is in need of medical attention. As Lakshminarayana Reddy was assigned with this responsibility, he got to know that Lalit Kumar was suffering from appendix and needed a surgical procedure. "The patient had around Rs 5,000 with him and he was unable to pay the rest of the amount. That's why I decided to pay his medical bills," the inspector said.
Lalit's operation was held the very next day, and he was discharged on April 18. Meanwhile, touched by his kind gesture, the chief minister of Himachal Pradesh Jai Ram Thakur has thanked the police officer in a letter.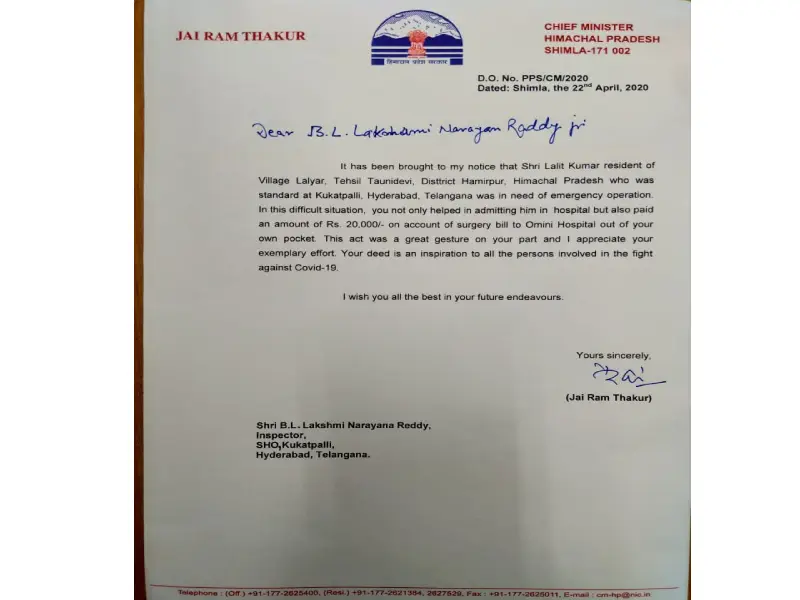 The Chief Minister  in a letter addressed to the Inspector,  said, "This act was a great gesture on your part and I appreciate your exemplary effort. Your deed is an inspiration to all the persons involved in the fight against COVID-19."