Hyderabad: Minutes after the Asian Civet cat was rescued from the Noorani Mosque in Golconda of Hyderabad. The anti-poaching squad of Nehru Zoo park, receiving another distress call. This time, it was a leopard spotted on Mailardevpally road falling under Rajendra Nagar of Cyberabad commissionerate. Sources also reported that the leopard had attacked a lorry driver who was attempting to run away from the animal.
On Thursday morning, commuters taking the Mailardevpally road spotted a leopard sitting next to the median. The videos and pictures indicated, the leopard might have suffered an injury. The animals, for a long time, was found sitting next to the median wall.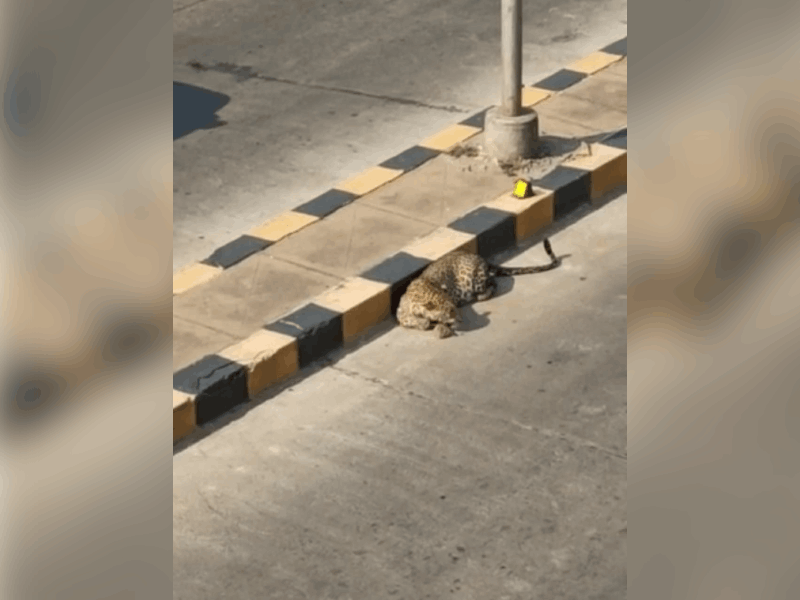 However, panic gripped the area when the animal began to run. It first moved to the adjacent footpath and then ran toward the commercial shops next to the road. Locals claimed that, It attacked a lorry driver. The zoo officials pressed in a drone to keep track of the leopard. The last seen was, it moved into a compound wall at near to Shamshabad.
"The Zoo park team are yet to locate the leopard, the animal jumped into the farm hours near Budvel Railways station. Search operation is under process, trap cages are set up in the site' said the zoo officials
Inspector of Police K Santhiah Goud of Mailardevpally told Newsmeter, "The area has been cordoned off,the Anti-poaching squad have been alerted. While commuters have been cautioned, the traffic has been restricted.
Meanwhile, an Asian Civet cat that entered the Masjid E Noorani mosque, on May 14th, has been rescued, said an official of Nehru Zoo park. Panic gripped in and around Fathe Darwaza of Hyderabad, on Thursday as the news of the big cat in the town spread. The Anti-poaching teams from the Nehru zoological park deployed at the mosque, identified it to be a Asian Palm Civet.
On May 14th,the locals at Golconda identified a big cat entering the mosque between 2 AM and 3 AM.