Hyderabad: A leopard strayed into a residential area at Shadnagar town on the outskirts of Hyderabad on Monday morning. The sight of the big cat created panic in the thickly populated region.
The animal was found resting on the roof of a house owned by resident Vijay Kumar during the wee hours of January 20th . As his family members spotted it, they reached out to the police. In no time, the news spread to the entire area and soon a crowd gathered to get a glimpse of the big cat. Locals were seen climbing over rooftops of houses and buildings.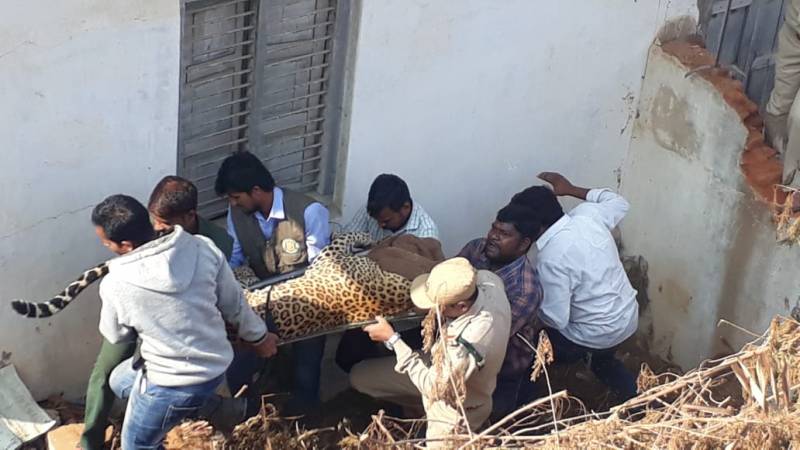 Police teams rushed to the spot located on Patel Road and cordoned off up to 100 metres around Vijay Kumar's house. They asked the people who had assembled in the vicinity to disperse as a precautionary measure.
Constable injured, as leopard rescued
Officials from Shadnagar forest range along with a rescue team from the Zoo were deployed for the operation. On arrival the Cops found the animal sitting under the staircase. After observing the surroundings, precautions were taken to prevent it from entering into the house.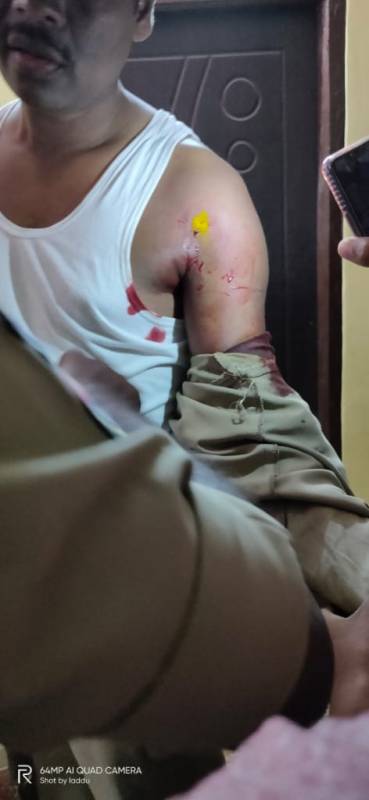 Zoo official Dr.M.A.Hakeem along with his team members rushed to the spot and tranquilised the leopard which was sleeping below the staircase in a house . As the tranquilizer was shot, the animal turned ferocious, took a leap and landed at around 150 meteres distance from the house. In the process, one police constable was injured. However, after darting ,the animal went into the kitchen room and sat down before it got sedated . Later, it was carried to the cage and and shifted out . On examination no external injuries were found' said Dr. Hakeem.
Laxman, a police constable from Shadnagar police station who was injured was taken to a nearby private hospital. He received claw injuries on his shoulder and other parts. He is being kept under observation.
"In such situations, it is very important for people to maintain restrain as wild cats can become agitated with much public activity and noise and even turn violent also. In such situations, it is also difficult to control the animal" said Dr. Hakeem.
The estimated age of the animal is about 5 to 6 years . The Nehru Zoo officials thanked people for supporting and police for coordinating the rescue operation and shifted the animal to the zoo. After treating the animal, further course of action will be decided, they said.
This is the first time a wild cat has been spotted at Shadnagar. Earlier, there were reports of cows, goats and sheep being attacked in different parts of Maheshwaram and Manchal of Rangareddy district, though wild cats were found to be involved in only a few of them.