Hyderabad: Telangana Chief Minister K Chandrasekhar Rao on Sunday announced extension of lockdown in the state till May 7.
The CM made it clear that the government will not exempt any sector from the lockdown from April 20 as announced by the Centre.
The decision followed a cabinet meeting held on Sunday at Pragathi Bhavan. The cabinet resolved not to relax the lockdown from April 20.
"The decision was based on extensive feedback received from various sections of the society. The government took feedback from various sections in all districts. 95 percent favored extension of lockdown. I also interacted personally with several people in districts, who sought extension of lockdown. In fact, several persons sought extension of lockdown till May end," KCR later told media.
The CM stated that the cabinet will meet again on May 5 to decide about the future course of action.
KCR also asked air travelers not to visit Hyderabad till May 7, even if Centre permits flights after May 3. "The domestic and International airport officials in Hyderabad will be asked not to operate flights till the state government lifts lockdown," KCR said.
KCR said the decision was taken keeping in view the gravity of the coronavirus situation and increasing cases in Hyderabad and other districts. The CM informed that total cases in Telangana increased to 858 on Sunday, of which 651 are active.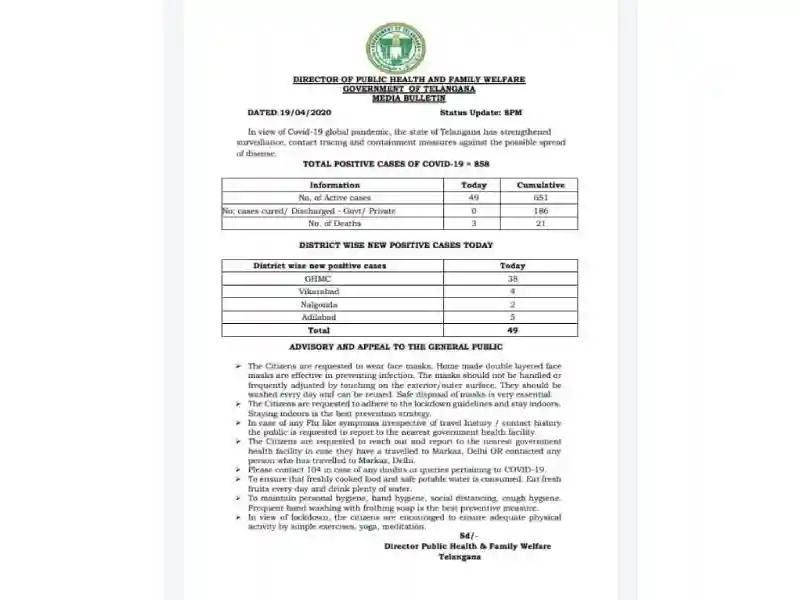 On April 19, three more deaths were reported taking the toll to 21 in Telangana. However, the silver lining is that 186 patients were discharged after recovery.
According to the state government, four districts, Warangal (rural), Yadadri Bhuvanagiri, Wanaparty, and Siddipeta did not witness any corona case so far.