Love knows no bounds: Japanese girl gets married to Kumbakonan boy as per Tamil tradition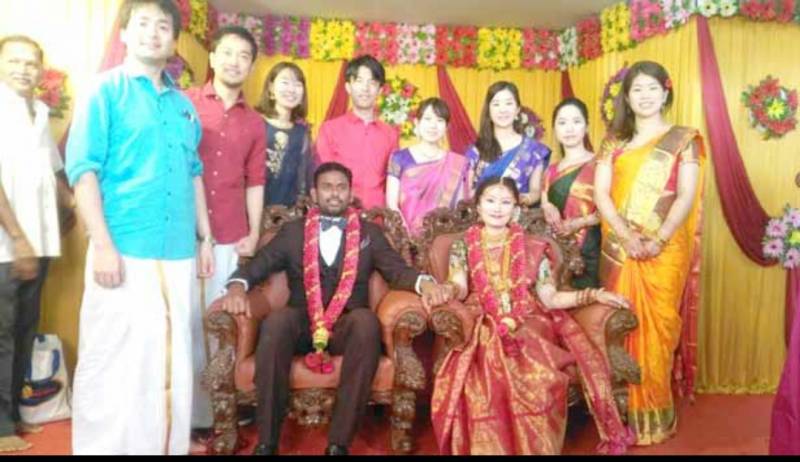 A Japenese girl draped in a traditional silk saree entered into a wedlock with a Kumbakonam youth in the Tamil traditional manner. The wedding took place with the blessings of their elders at a grand event
in Kumbakonam on Sunday. People gathered in large numbers to attend the event. It is the story of the two youngsters who met each other and fell in love instantly. The rest is all about their efforts to convince their families for the wedding.
Jayakumar (32), a resident of Vivekanandha Nagar in Kumbakonam is a research scholar. He obtained doctorate in science and took up a job as a scientist in a research institute in Tokyo, Japan. This is
where he met Megumi (28), another scientist, who worked in the same institute. They became friends and soon developed an inclination for each other.
Megumi wanted to marry as per Tamil traditions. She informed her parents and obtained their permission. Now the couple approached Jayakumar's parents who also gave a green signal. On Sunday morning, both
their families reached the marriage hall in Pachaiappan colony in Kumbakonam for the ritual. Priests performed special poojas. Megumi was dressed in the typical Tamilian attire which included a pattu saree and Jayakumar in veshti and sattai. Amid chanting of mantras, their wedding took place.
Later Megumi, said, "I always admired Indian tradition. The culture here fascinates me. I decided that my wedding should take place as per the tradition here. I am happy and thrilled. I will follow Tamil
tradition."