NewsMeter Network
Hyderabad: YSR Congress government that has been alleging Polavaram irrigation project as a huge scandal by the previous government of N Chandrababu Naidu has asked the contractor Navayuga Engineering Company to stop the construction. AP government led by Chief Minister Y S Jaganmohan Reddy has issued a pre-closure termination notice for part of works given to Navayugda in the ongoing major irrigation project. The revised estimated cost of the project is Rs 55,000 crore.
Initially, Naidu's government accorded the contract to Transstroy JV owned by TDP leader Rayapati Sambasiva Rao on March 2, 2013, with a contract period of 60 months. As Transtroy could not show " reasonable progress, part of the work has been withdrawn from their scope in2018 February and the deleted portions of work were entrusted to Navayuga Engineering Company Ltd. ( Civil part ) and BEKEM Infra Project Pvt. Ltd( Radial gates part ).
The Polavaram Project being constructed on river Godavari has been declared as a National Project as per Section 90 of AP Reorganization Act, 2014. The central government has given funds amounting to Rs 6764 crore since bifurcation.
YSR Congress party in a book titled 'Chandrababu Emperor of Corruption 1,44,571 crores" alleged the Polavaram cost has been escalated.
"The estimated cost of the project in 2010-11 was Rs 16010 crore and the same was approved by the planning commission. However TD government has straight away taken the cost to Rs 31,000 crore," YSRC alleged. The project cost was later revised to Rs 55,000 crore and the same has been approved by the centre.

"AP government doesn't want to hand over the lucrative project to the centre and making most of the opportunity. For instance, the value of headworks which were executed b the then contractor has been increased from Rs 4041 crore to Rs 6961 crore. In this amount 50 per cent is kickbacks which will get into the accounts of the bigwigs. Hundreds of crores of rupees have been given as mobilisation advance to the companies such as Transstroy India. Subcontract on nomination basis is brought into the picture of these inflated rates to ease corruption. The seventh package works left undone valued at Rs 23 crore were given on nomination basis for an inflated price of Rs 73 crore. It is estimated that 50 per cent of the escalated total project cost is going into the pockets of the government heads," YSRC alleged in the book.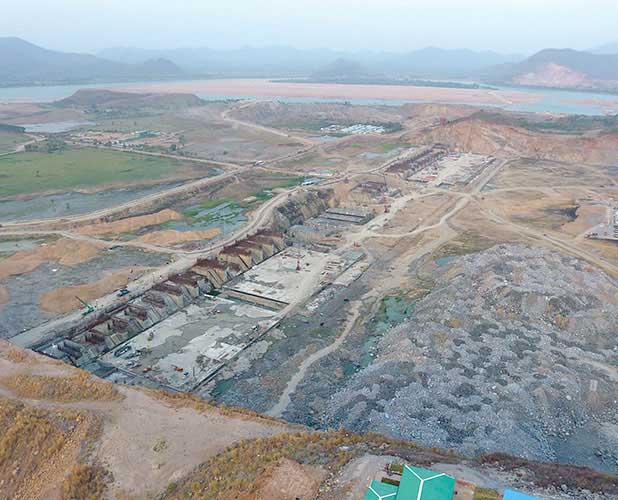 The project is aimed at irrigating 2.91 lakh hectares and to generate 960 MW hydroelectric power and to supply 23.44 TMC of water to Vizag city for drinking and industrial purpose and also to divert 84.7 TMC to Krishna basin as part of interlinking of river projects.
Centre has given Rs 250 crore in 2014-15, Rs 600 crore in 2015-16, Rs 2514 crore in 2016-17, Rs 2000 crore in 2017-18 and Rs 1400 crore in 2018-19. The previous TDP Government has reported to the centre that 67 per cent of the irrigation component of works have been completed
NEC said that the project has set a Guinness world record by pouring 32,315.5 cubic metres of concrete into the spillway channel.