Make preliminary arrangements for the COVID vaccine availability in the state: Health Minister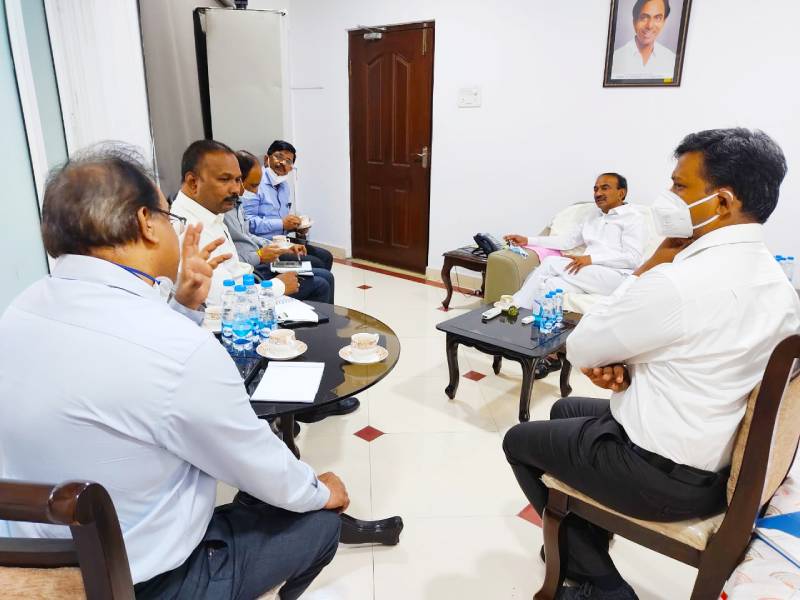 Hyderabad: The State Minister of Health and Family Welfare, Eatala Rajendra has issued instructions to the authorities to make preliminary arrangements for the COVID vaccine which should be available to all the citizens after it will become accessible.

The Health Minister Eatala Rajender held a lengthy review meeting with Health officials and the committee of experts set up for COVID. He closely monitored the growing number of cases in Delhi and Kerala.

The Health Department expects the number of cases will increase in the state after the recent festivity of Bathukamma and Dasera. The health department discussed the issue of the severity of the virus with the onset of winter.

"The number of cases was under control due to the geographical conditions in the state of Telangana, the steps being taken by the government and the planned action of the medical health department from the beginning," said Eatala Rajendra, health Minister, Telangana.

The Health Minister also said that due to the heavy rains in the city, the groundwater level in Telangana is expected to rise and the cold intensity will go down. So, virus dispensation will also go down. However, people should take precautions against the virus, as well as to protect others from contracting the virus.

The Health Minister also said that the government has already taken all precautions to combat the coronavirus. Hospitals are fully staffed by doctors and staff. Today's review meeting discussed the existing facilities, bed number, oxygen supply, supply of medicines and staff. The Health Minister instructed the officials that there should not be any shortage of health facilities.

The minister also said that due to heavy rains, the water became highly polluted and people are asked to take precautions to prevent diseases like diarrhoea. Care should be taken to prevent diseases like malaria and dengue as water storage is more likely to attract mosquitoes.

Minister Eatala Rajender asked the medical health department staff to work in coordination with the municipal department officials in the towns and the Panchayati Raj department officials in the villages.