Hyderabad: A 23-month-old boy has scripted a new history by becoming the youngest person on earth to recognize the pictorial objects. He started identified alphabets at the age of 13 months. When he was 1 yr 9 months(21 months) old, he was recognized and listed in world book records and few others for his memory skills.
Aadith Vishwanath Gourishetty, of Karimnagar district in Telangana has been certified by the 'World Book of Records'. Earlier, he has earned name in India Book of Records, Telugu Book of Records, Wonder Book of Records and Super Kid National Award.
"We never taught him alphabets. We wanted to avoid screen (TV, Mobile) time and therefore we always engaged him in different activities. Suddenly one day we realized that he can recognize alphabets," said Snehitha, Aadith's mother.
His natural ability to recognize things from their images was first spotted by his grandparents when they saw him identifying images of different Gods with ease. "One evening, when he sat in the puja room with his grandmother, she saw him instantly recognizing the image of Sai Baba and Venkateshwar Swamy. It was discovered that Aadith could now identify the images of as many as 15 different deities. At various instances, he was asked to recall the names of deities and every time he did it effortlessly," said Snehitha.
Aadith's family wanted to test the child's unique ability, and he was shown an image of the Indian flag.
"Once we saw him different countries flag in a kid's book, he remembers that. After that, we drew flags of different countries on paper and kept in a corner of the house. When we asked him to bring Nepal's flag, he without hesitation picked it up," said Snehitha.
At an age when a child finds difficulty in remembering his toys, his mother says that he can recognize the animals with their shadow structure.
"He started identifying their toys and dresses very accurately. Soon he knew all the alphabets of the English language. His grandmother has an impact on him. More than parents' involvement, the entire family has taught him well and brings positivity in his growth," said Snehitha.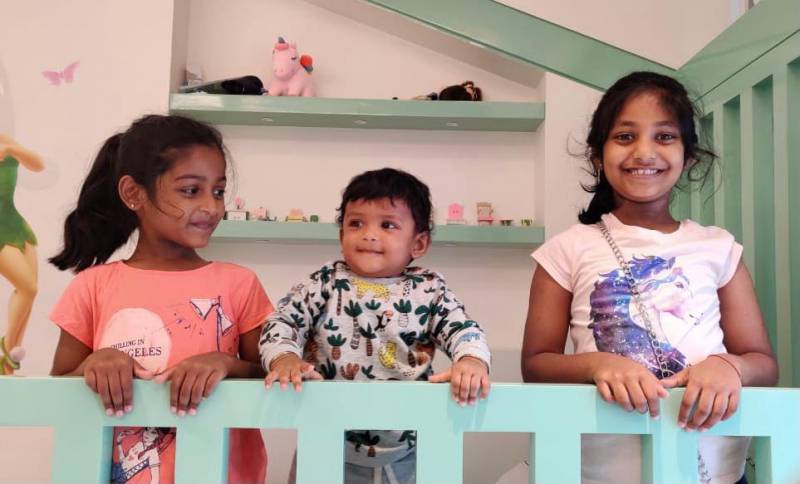 Aadith with his sister Kheya and Ishya
Often he followed his mother into the kitchen, where he would look at all the fruits and vegetables and other household appliances. His parents decided to conduct an experiment and see how things turned out. Aadith was taught the names of different fruits, vegetables, and electronic appliances. He was also shown some brand logos embossed on the appliances and other items of daily use. To the utter amazement of everyone in the family, within a few days, the child could identify and recall all the names perfectly.
The experiment was repeated after a gap of a few days to see whether the child could still remember and associate with the images. Once again he surprised everybody with his performance, where he not only remembered the names but also learnt some new ones.
Aadith's grandfather Gourishetty Munendar, a successful businessman himself, watched his grandson closely. He realized that he was no ordinary kid and would surely achieve amazing feats. On his insistence, Aadith participated in various competitions and soon came to be known as a "super kid"