Highlights
Umarani Chiluka rewarded with national honour for unique methodology

Primary school students get hooked on to e-learning
Hyderabad: It will surprise no one in particular if one throws away an outdated or obsolete Smartphone, particularly if the instrument cannot be used for even making calls, leave alone for any other add-on purposes.
But here is a teacher who has been making smart use of such phones and not for any personal use but to teach. Yes, in a practical demonstration of the adage 'necessity is the mother of invention', she uses it to teach and that too to primary school students. The most rewarding part is that her uniqueness has not gone unnoticed.
Meet Umarani Chiluka, a teacher from Lalaguda Primary School in the city, whose very effective teaching mode has won her the Union HRD Ministry's National ICT Award, the first female primary school teacher from Telangana to be honoured.
The teacher, who is a resident of Malkajgiri, installs e-learning apps in these dysfunctional smartphones, which students can use to learn different subjects.
Speaking to NewsMeter, Ms Chiluka said "I got this idea when I found out that many smartphones remain unused when there are issues in calls and SIM detection. People usually buy new ones in such cases. But I realized that even if calls are not working, apps can be used on the phone. It could immensely help kids studying in a government school, I thought. Moreover, such modes can generate interest among students."
The teacher then procured these mobiles from family and friends. The next step was to identify which type of apps could be used. Given that phones cannot handle SIMs, it was important to look for apps that do not need Wi-fi or internet to function. E-learning apps needing minimal maintenance was what she had in mind.
Primary education with e-learning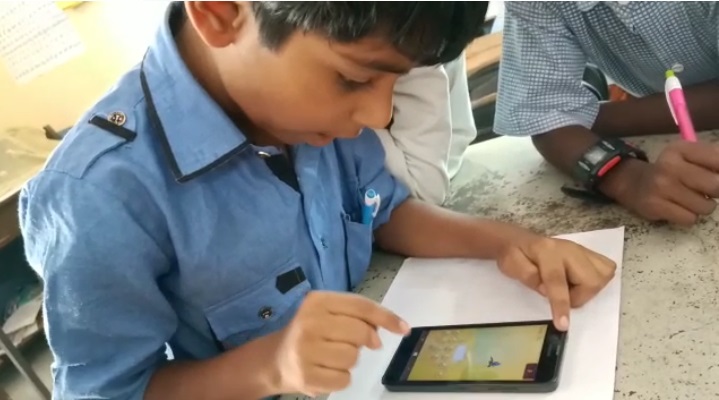 A psychology post-graduate with over 23 years of teaching experience, Umarani has a lot to say about the integration of ICT with education. In her opinion, ICT tools need to be utilised from primary education itself.
"In higher education, we have MOOCs (Massive Open Online Courses), but at the primary level, more work needs to be done in e-learning. We also need to ensure that kids don't get addicted to screens, by regulating their screen-time."
As per the teacher, e-learning will help address the staff crunch issue. "In primary schools, there will be 5 classes, but only 1 or 2 teachers to teach 22 subjects. Further, it encourages multi-lingual and multi-grade learning and improves attention span among slow learners and children with special needs," she said.
The skepticism towards digital tools in aiding learning should be done away with, according to the teacher.
"There is no single, fool-proof learning method for children. When technology is increasingly becoming integral to everyone's life, students need such skills to compete. Even an office-boy working in a firm today is expected to open the website of his employers. That is what the standard society demands of you now," added the teacher.
"Kids fear about the misconception among elders with regard to handling digital tools. Kids learn fast, and we need to tap their potential early on," said Umarani Chiluka.