Mahbubnagar: Actions speak louder than words, and when it comes to Akshara Special School for the Deaf, this adage has never been truer, literally and metaphorically.
An initiative taken up by Mahbubnagar Collector Ronald Rose, along with District Rural Development Officer (DRDA) Valluru Kranthi, the Akshara Special School for Deaf began in April. With a strength of 25 students upto 18 years of age, with hearing impairment ranging from 75-100%, the school has been reaping extraordinary results within six months since its inception.
Keerthana Bezewada, one of the trainers at Akshara, certifies this with great pride. Pointing towards the children, she says, "Initially, most of these students wouldn't dare communicate, or even try, because they had been taught to not do that owing to the stigma and embarrassment it may bring. But once you give them the tools to speak, they are happily chatting away. Today, a student came up to me and described the whole experience of having attended a function and enjoying the food there. It is these little things that bring great satisfaction."
The school does not believe in the one-size-fits-all oral approach to teaching that is typical of an Indian school. To tackle the complex problem of educating people with hearing impairment, the first step taken was to ensure proper sign language training. Language learning is not a focus area for most people as non-disabled folks automatically learn their mother tongue as they grow through hearing and speaking. However, the same cannot be said for those who can't hear. This also severely impairs their ability to speak.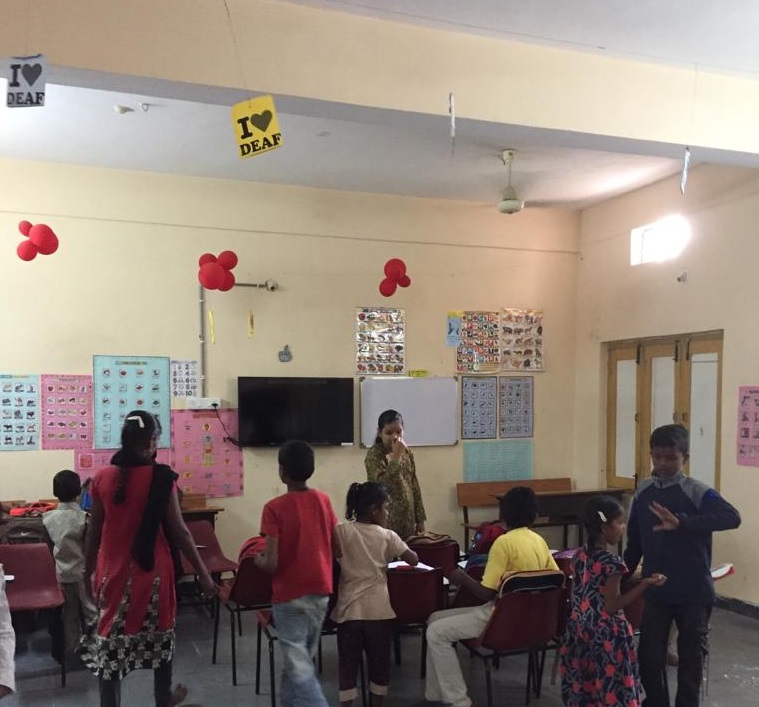 Mahbubnagar DRDA Kranthi Valluru says, "Collector sir [Ronald Rose] had decided from the very start that this school would prioritise learning through sign language. It was decided that we should have deaf teachers only so that students can connect with them better. NGO Noida Deaf Society provided us with the expertise and trainers to run the school. An amount of Rs 500 per month is collected from each student."
This thrust on language-learning is a radical departure from other modes of teaching that encourage lip-reading and speech therapy for people with hearing impairment. Educators at Akshara say the traditional method can produce only limited results.
"Most of the parents of these children are from a rural background. They prefer to think that this disability is curable, that their child will talk if they go for speech therapy. Many do not understand that sign language is the best thing for them. Speech therapy or hearing equipment may help but not always. What then?" asks trainer Keerthana.
The solution then is to teach them a proper tongue. That is Indian Sign Language (ISL) so that the words they have in mind, materialise into communicable actions and gestures. Following this, all the main subjects such as science, social studies and English will be taught in ISL.
Surprisingly sign language is not a compulsory course for Special Education B.Ed in Telangana. To make matters worse, there are barely 250 qualified ISL interpreters for a population of over 1 crore "Deaf and Hard of Hearing" individuals nationwide, as per a 2018 report. Also, sign language interpreters may not necessarily be experts in a subject and vice versa. This brings forth the problem of the lack of proper trainers and interpreters in the state, a hurdle that Akshara school has successfully managed to surpass for now.
Challenges for Persons with Disability (PwD) in Telangana
Although the school has taken a large step towards progress, it does not mean that the challenges they face are any less.
"As a child of deaf adults, I know what the situation is. Most of these disabled people somehow manage to get a degree. The stigma forces them to act as if everything is normal, and this practice continues from school till college. Even though they desire for corporate and well-paying jobs, they end up working in retail outlets. Moreover, their disability is often used as an excuse for cheap labour by these outlets. Fearing loss of job, they are compelled to stay within such work which doesn't give them enough economic mobility," added Keerthana.
However, there are other experts who still think that only inclusive education of persons with disability will equip them for the challenges in life. Kalpagiri Sreenu, a registered special educator in Hyderabad, says induction into the mainstream is better than special schools. "Under MHRD's centrally sponsored scheme, children with special needs can avail inclusive education. If it is implemented properly, students with disability can learn social skills, the language and the skills to lead a normal life."
As per the data shared in response to a question raised in the 17th Lok Sabha, Telangana showed a meagre .85% enrolment of children with special needs in government schools despite there being schemes like IEDSS (Inclusive Education for Disabled Second Stage). In another question with regard to District Disability Rehabilitation Centres in the country, it was said that no funds were allocated to DDRC in Telangana, except for Rs 2,09,326 in 2017.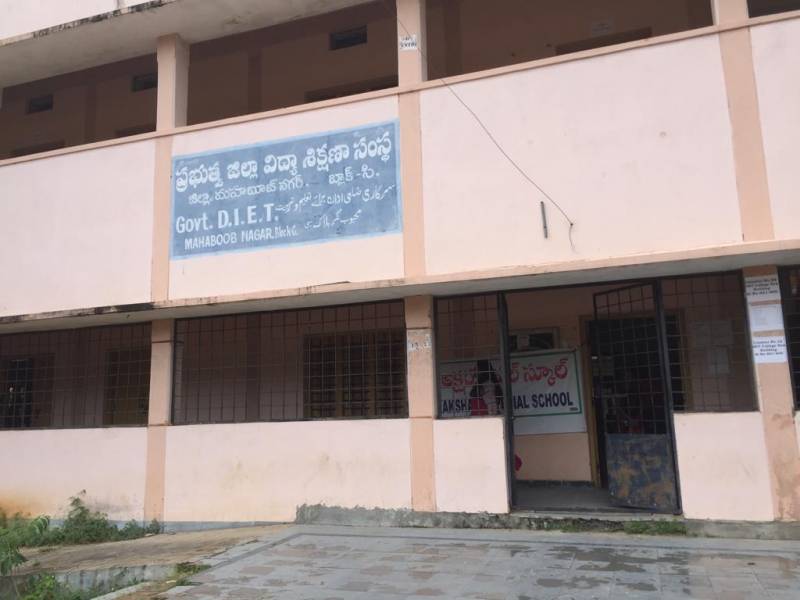 Skill Development course for persons with hearing impairment
Keeping in mind the adversities that people with disabilities encounter on a daily basis, a Skill Development Centre (SDC) was also established along with Akshara special school. Here, adults with hearing impediments are trained in English and basic computer education in a 3-month course free of cost. They will also be provided with employment by the end of it.
"I can't express my happiness at being able to learn English. Most of us were not taught sign language and survived till this level with basic lip-reading. Now that we have access to the language, so many doors have opened for us. Speech therapy only helps within the family. But after learning sign language, I feel I have made great progress. I have even asked my parents to come and learn it," says Baleshwaramma, a student at the SDC.
Goswami, another beneficiary of the course, said, "I knew only Telugu. Two months into the course, I can handle sign language and computer applications well."
All the participants at the Skill Development Centre were unequivocal in their assertion that they need proper intervention and not sympathy from the able-bodied people. Soumya, one of the trainers at SDC, shared her past struggle with communication. "Earlier, we used to adjust with expressions and gestures. Now, we have words. Having vocabulary is such a powerful change in your life. So is learning to book train tickets and carry out bank transactions. I really believe we don't need other's sympathy. As long as we are self-sufficient, all the challenges can be overcome. People have this general notion that deaf people cannot survive by themselves. I disagree with that," she says.
It goes without saying that the onus is on the non-disabled people to learn sign language and facilitate as trainers/interpreters for those who are in dire need of that knowledge, and especially so when the state is facing a dearth of staff. The school's administrators are also of the same opinion: that this should reach more people so that many more can benefit out of it.