Hyderabad: Ever heard of a helmet that can protect you from pollution? Here's Harshitha, a six-standard student from Peddappalli, who is earning accolades for her 'common-man's friendly helmet', designed specifically to blow pollutants, like dust particles, away from the wearer.
The student of Zilla Parishad High School, Chandanapur, said she designed this helmet out of necessity. She had witnessed her uncle suffer from respiratory diseases, following continuous exposure to dust, smoke and fumes from his welding workshop. Speaking to NewsMeter, the 12-year-old entrepreneur said, "My uncle, who is a welder, got a lung infection due to the exposure to smoke from his workplace. In one corner of the shop, a big fan is fixed. The fan is usually switched on when the work happens. The total smoke spreads to the entire shop. So, all the workers suffer. That made me think of a solution for the problem, which is how I got this idea."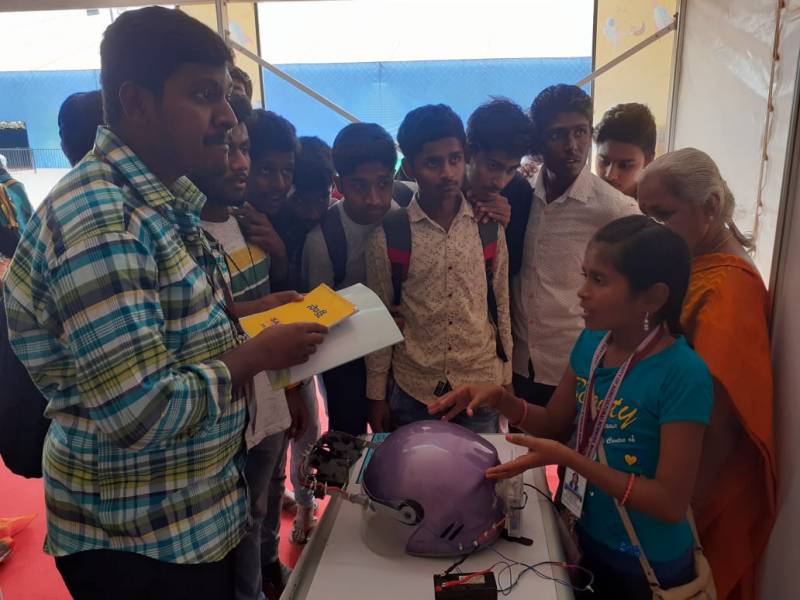 She couldn't go to school for almost a week following her uncle's sickness. Noticing her absence, her class teacher, Taduri Sampath Kumar, had taken matters in his own hands. "I was surprised when she came to me and said, 'Why don't we fix a fan on the helmet for the workers so that they can stay safe from the dust and smoke? Won't this protect them from pollution?' It was her idea, and we helped her implement it."
Dasari Harshitha's invention is a simple one: a helmet with two small fans, connected in one frame with a battery. The fans function when they detect smoke, thereby saving energy. According to the teacher, Harshitha's innovation can help protect people from husk dust while winnowing, and even traffic policemen as they constantly inhale smoke emitted from vehicles.
A class 6 student from Telangana who has made a helmet that blows away the dust particles/ droplets while doing construction or while spraying pesticide.@anilgb @CSIR_IITR @shekhar_mande @CSIR_IND @Ashutos61 @drharshvardhan pic.twitter.com/c8ehUnotpG

— Alok Dhawan (@Alok_Dhawan) January 4, 2020
The 'common-man's friendly helmet' costs less than Rs 1,000, excluding the initial expenditure for procuring the raw materials, and weighs less than 250 g. The student entrepreneur has been displaying her innovation at different fairs, the most recent one being the India International Innovation Fair held in October 2019. The helmet also earned her a gold medal at the event, and two companies have already asked her to apply for patents.
And what are Harshitha's dreams for the future? "I want to be a scientist and create inventions that will help rural people," says the budding scientist, who wants to bring a change in the society through technology.