Meet unsung heroes who brave stigma to help rural communities fight COVID in Andhra Pradesh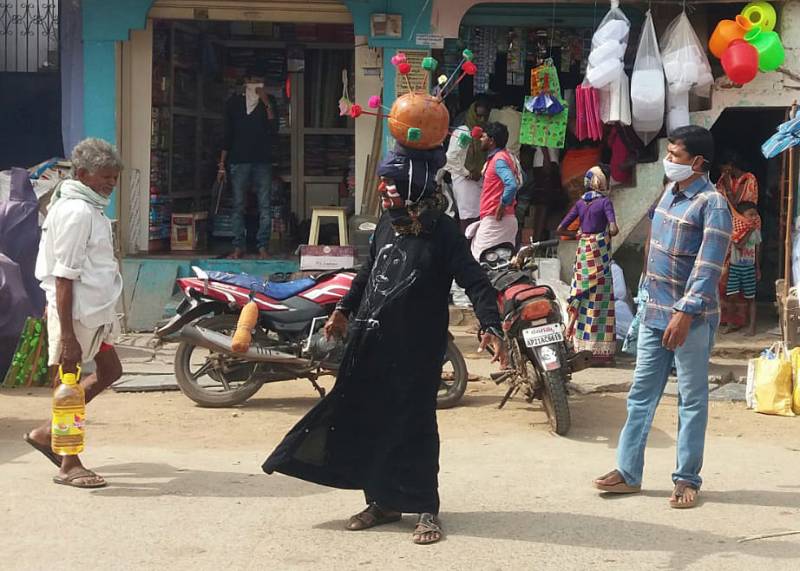 Long before the gurgled call of a rooster signals the break of dawn, Gudipalli Somasekhar is up. Armed with paint cans in one hand and brushes in the other, the 25-year-old artist makes his way through the sleepy hamlet of Vepulaparthy in Andhra Pradesh's Anantapur district, seeking to transform dull walls with quick masterly strokes.
These are no random gestures, and what Somasekhar does is no ordinary graffiti; his paintings depict the unprecedented impact COVID-19 has had on almost every aspect of human life. Whether it's a painting of a common man in a mask, frontline workers fighting the virus, or just a friendly reminder to wash hands — he is on a mission to fight misinformation and stigma surrounding the pandemic through his art.
"In rural areas, people still don't know much about the virus. I was scared to think about what would happen if the virus spread in my locality and surrounding villages; people wouldn't be able to bear the hospital expenses. That thought motivated me to use my skill to spread awareness," says Somasekhar, who embarked on his awareness mission on April 1, barely a week after the lockdown was announced.
He has, so far, made 250 wall paintings in 100-odd villages of Andhra Pradesh and neighboring Karnataka. "In Andhra alone, I have painted 50 villages in and around Vepulaparthy, which is about 100 km from Anantapur," says Somashekar, who pursued fine arts at Yogi Vemana University in Kadapa, Andhra Pradesh, with the help of Rural Development Trust (RDT), a reputed NGO supporting rural communities in Anantapur. For this COVID-19 endeavor, he dug into his pockets and has spent Rs 15,000 and counting. His parents, who work as farmhands, have been supporting him in his initiative, both morally and financially.
In terms of infection statistics, Anantapur is the third most affected district in Andhra Pradesh with 41,000-plus cases, just after East Godavari (59,000-plus cases) and Kurnool (44,000-plus cases) as of August 31. However, Vepulaparthy — whose population is close to 4,000 — fares much better, compared to the rest of the state, with just two active COVID-19 cases being reported from the village on August 31. Both patients are undergoing treatment at the government hospital there.
Before going about with the awareness drive, it was important for Somasekhar to educate himself about the virus and its multiple facets. Somasekhar, who has earlier made paintings on issues such as gender violence, road safety, women's rights, says he got his information from credible newspapers and websites. "My aim was to process the information and break it down in simple artworks for the rural folk to understand. I feel happy that my paintings led to conversations among the villagers about the disease. The elderly people used to stop by to appreciate my work and talk about the importance of being safe. Many men and women even discussed using sarees and handkerchiefs, respectively, as protective gear, lest they run short of masks," he says.
Somasekhar is part of a growing cohort of people in villages in and around Anantapur district who have gone about in unique ways within their capacities to raise public awareness on COVID-19 and its wide-ranging impacts in almost every field. They are helping fill COVID-19 awareness gaps by disseminating information or countering stigma through novel communication strategies in Telugu, the local language. These warriors, who have their roots in the very communities where they are functioning, are ensuring that their messages of hope and positivity leave an impact that would last well past the scourge of COVID-19. In most cases, they employed the more traditional means of communication — leaflets, town announcements, paintings, and posters.
Skits to send across life-saving messages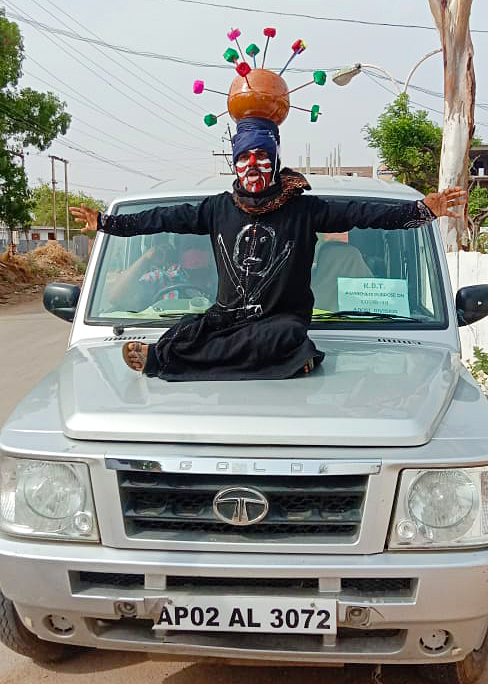 While Somasekhar is fighting COVID-19 with paintbrush and colors, there are others who have been highlighting the importance of washing hands frequently, wearing masks in public places, and observing physical distance with riveting skits and street plays. Dasari Ramanjineyulu, a 45-year-old cultural organizer in charge of four mandals in neighboring Kurnool district, switched from awareness campaigns on HIV prevention, tuberculosis, and girls' education, to sensitize masses on personal hygiene to keep COVID-19 at bay. Donning colorful costumes, he has already conducted role plays in 109 villages in Kosigi (Kurnool) and Emmiganur (Karnataka) in coordination with police authorities and the district administrations concerned.
"I replicate scenes from daily life. At times, I play a gentle person giving friendly advice on the virus, and at others, I turn into a 'marauding corona demon', which is all out to erase mankind. My plays last for roughly 90 minutes. I always get questions from the crowd that gathers to watch my performance, mostly about the symptoms. For my part, I stress on mask etiquette, the importance of hand sanitizers, and staying at home to stay safe," says Ramanjineyulu, who even undertook the distribution of cotton masks in many villages and demonstrated the right way of wearing one.
Mobile library addresses fear, sensitizes people
When it comes to COVID-19 campaigns, one size doesn't fit all. The approach while sensitizing groups of people that are most vulnerable — elderly, poorly-served, and underprivileged — will be different from sensitizing those living in remote areas. For people of such regions in Kurnool district, two mobile libraries were converted into ambulances. Equipped with a microphone, these vehicles toured villages around Adoni city to create awareness among the locals.
Nagalikar Basavaraj, who coordinated the mobile-library-turned-ambulance drive, said that each mobile library used to visit two villages daily, where they conducted sessions on COVID-19 and distributed face masks and pamphlets with awareness messages written in Telugu. "Before visiting a village, we coordinated with the local authorities, government school teachers as well as the police, and jointly organized the awareness drives that concluded with the distribution of face masks," he adds.
He had 23-year-old librarian Arekanta Veeraswamy for company. Together, they have visited 100-plus villages across different mandals in Kosigi in less than two months. Veeraswamy performed a few street plays, playing out realistic scenarios. "I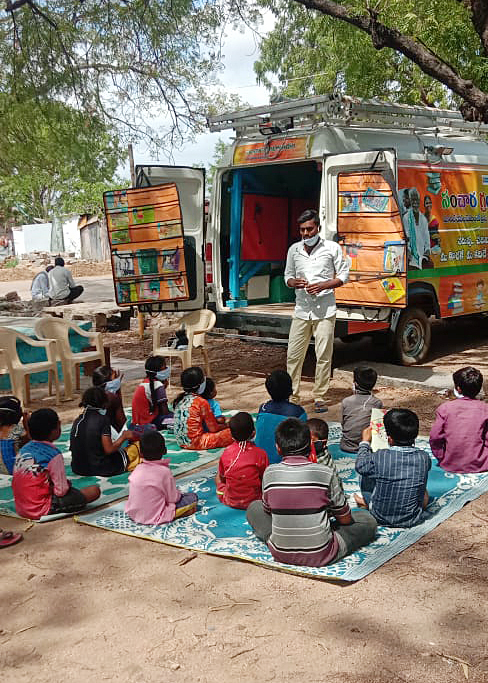 would play the role of an ignoramus who had to learn about the coronavirus from a well-informed person. Role-plays are an effective way to grab attention, and it's a lot of fun too. We would ask people to watch us perform standing right outside their homes to prevent crowding," he says.
What excited Basavaraj was the participation of the village kids, who were as interested in the plays as in the well-stocked library. At a time when schools are shut, the mobile library also performs the arduous task of making sure that the kids in the villages at least have something to read. "Our drive helped children in the village to study. They would often borrow books from the library. Many of them were studying from home, and they needed access to books more than ever," he says.
His only fear was contracting the virus during the hectic village tours. "But I would remind myself that I was doing an essential job. I also followed all safety protocols, such as social distancing, wearing masks, and using hand sanitizers."
Also, helping with the popular mobile library awareness drive was Patan Mahaboob Basha, a grassroots crusader working with RDT for the past 17 years. One of their main challenges was preventing people from getting too close to the mobile library. "We had to ensure social distancing norms were being followed to the T. Rural health workers and the police helped us in changing the behavior and attitude of people," says the 43-year-old, who holds a master's degree in management.
COVID survivor marches on with resolute spirit
For Mukkara Suguna, a rural health counselor in Anantapur district, it was a twin battle — at the personal as well as community level. She is living two extremes, as a COVID-19 warrior and a survivor. Her exemplary work in driving sensitization campaigns, notwithstanding, she had her struggles for acceptance in society while battling the disease. "I tested positive for coronavirus a month ago. My neighbor, who works as a teacher, treated me very badly. She did not know how the virus spread. But instead of learning about it, she behaved rudely and insensitively. That made me sad," she says.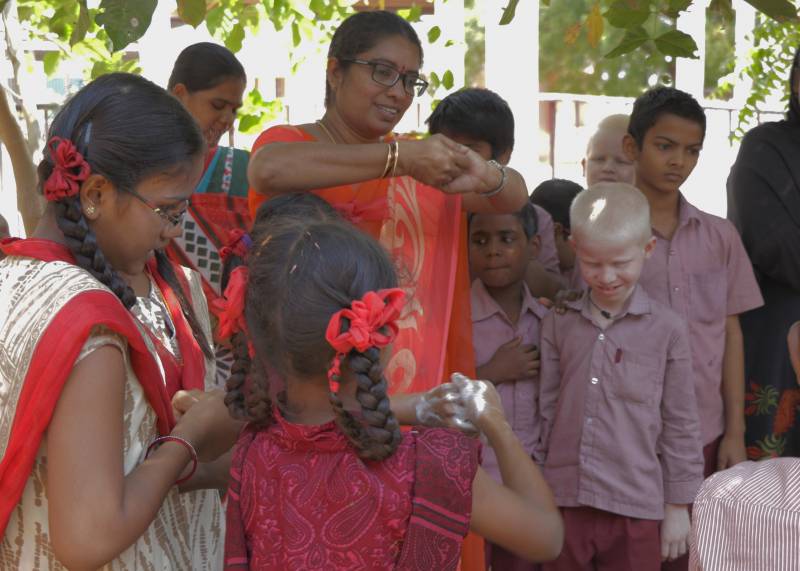 She had started with awareness campaigns in Anantapur schools in mid-March after Andhra Pradesh reported its first coronavirus case on March 12, from Nellore district. She used to disseminate information about the importance of hand hygiene, masks, and physical distancing until schools were shut down and the children sent back home. In the initial stages of the lockdown, the 45-year-old health counselor had worked only in Anantapur town.
"But since May, I began visiting remote villages, as I realized that people there needed crucial information much more than those residing in big cities. My usual strategy is to let them talk and just listen in. Once I understand their apprehensions, I explain what they need to do. Over time, I have realized that they appreciated me listening to them instead of just talking," she says.
The sensitization came with its share of challenges, including fear of contracting the virus. "While visiting a village, I didn't know how many people there might be carrying the virus. It was the same from the villagers' point of view. So, at times, it was a bit difficult to work in this context of fear and insecurity."
However, the biggest problem that she faced while visiting villages was stereotypes related to gender, caste, and class. "As a woman, I had to face many challenges — at work and in life — because society, in general, does not take women seriously. We, as women, must prove our knowledge at all times, while for men it's usually assumed that they are right. I have seen people in the villages often stare at me, as I do not wear toe rings or the usual jewelry because I am a widow," she says.
Her statement assumes significance in the backdrop of a recent United Nations policy brief, which exploring how COVID-19 has changed women and girls' lives across the globe, had stated with the spread of the pandemic, even the limited gains made in the past were at risk of being rolled back. "The pandemic is deepening pre-existing inequalities, exposing vulnerabilities in social, political and economic systems which are in turn amplifying the impacts of the pandemic," reads the brief. Melinda Gates, co-chair of the Bill and Melinda Gates Foundation, too, has stated in a paper that COVID-19 was gender-blind, not gender-neutral.
Though Suguna is relieved that months of awareness has led to "a significant improvement in the knowledge about coronavirus in villages", she wishes healthcare workers and survivors weren't ostracized as they are in many parts of the district.
Ignorance, the bigger challenge
The humble initiatives of these awareness crusaders haven't been without hiccups, though. More than the virus, the challenge was tackling ignorance, says Basavaraj. "Once we went to this non-descript village where the sarpanch was reluctant to let us in due to certain misinformation. But we convinced him by sharing advice given by doctors, and he finally allowed us to proceed with our awareness drive. Then there were times when a few people, especially the elderly, complained about feeling uncomfortable wearing masks because they were not used to those. Convincing them about the importance of masks was another challenge," he recalls.
Ramanjineyulu, too, recalls instances when he was even chased out of villages. "I have had people ask me to stop performing. They would say, 'there are no coronavirus cases in their village, so don't spread unnecessary fear'. Many COVID-19 patients and even those working on the frontlines are ostracized. It is ignorance that makes people discriminate. That can be stopped if people are armed with the right kind of information," he asserts.
Suguna says she is seeing "a positive change in society" despite the intermittent patronizing and condescending attitude, as people, nowadays, are more willing to listen to what she has to say. "If there's something that I emphasize during every awareness session, it about respecting women. People must treat women as equals, and appreciate their work. That is a pillar. But there is still a long way to go," she avers.
By Aveek Bhowmik
This story has been published as part of the Internews Information Saves Lives: Rapid Response Fund project to NewsMeter.