Hyderabad: Indian Meteorological Department (IMD) has forecasted heavy to heavy rains in different parts of Telangana for the next 24 hours.
IMD said Adilabad, Nirmal, Mancherial, Komaram Bheem, Nizamabad, Jagtial, Peddapale, Karimnagar, Rajanna Sircilla, Mahabubabad, Jayashankar Bhpalapalle, Warangal Urban, Warangal Rural, Bhadradri Kothagudem, Nalgonda, Jangaon, and Khammam will receive heavy to very heavy rains in the next 48 hours.
MET said thunderstorm accompanied by lightning may occur at isolated places over Telangana.
IMD said light to moderate to heavy rain or thundershowers will occur in the city for the next two days. The IMD also warned that rainwater may inundate the roads in low-lying areas. It urged people to restrict their movement.
According to the Telangana State Development Planning Society, E Bayyaram in Bhadradri Kothagudem district received 182.6 mm of rain, the highest in the state, while Keesara received 34.8 mm of rainfall, the highest in the city.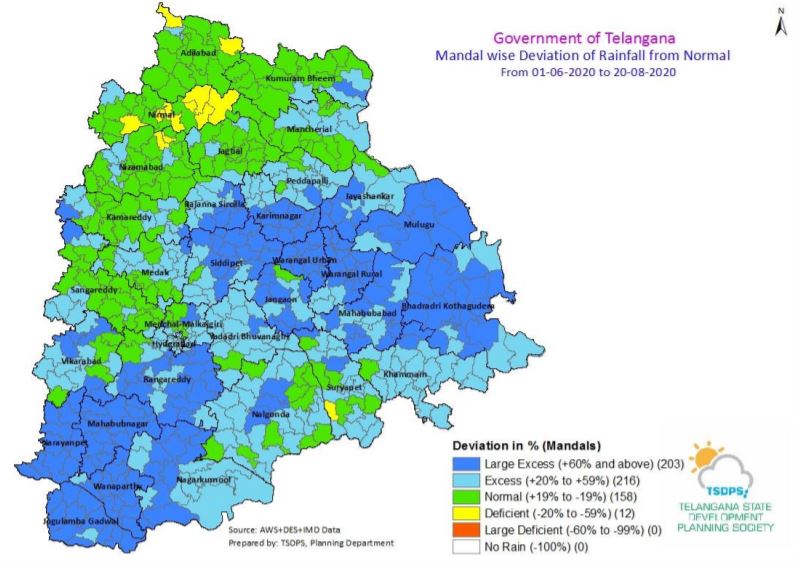 It also said that 216 mandals received excess rainfall of 20 to 59 percent, while 203 mandals received more than 60 percent of rainfall.
Meanwhile, 158 mandals in the state received normal rainfall and only 12 mandals saw a rainfall deficit till August 20.
"The Well Marked Low-Pressure Area over North Coastal Odisha & neighborhood now lies over north interior Odisha & adjoining Jharkhand with associated cyclonic circulation extending up to 7.6 km above mean sea level tilting southwestwards with height. It is very likely to move nearly westwards across Chhattisgarh & Madhya Pradesh gradually during the next 3-4 days," read the IMD's weather inference for Thursday
IMD said the associated cyclonic circulation extends up to 7.6 km above mean sea level tilting southwestwards with height. " The east-west zone now runs roughly along Lat. 20°N across central India between 3.6 km & 5.8 km above mean sea level tilting southwards with height. A fresh Low-Pressure Area is likely to develop over Northwest Bay of Bengal & neighborhood around 23rd August 2020," it added.