Hyderabad: Commuters at Begumpet Metro station were in for a rude surprise when they saw a notice posted on a metro pillar on October 21. The note said, "Begumpet station closed due to security reasons. Trains will not stop at Begumpet".
Since 6 am on Monday, Begumpet metro was inaccessible to commuters. It is believed that the move was a result of the opposition party's (Congress) call to lay siege at Pragati Bhavan. The metro rail authorities had instructed to close down the station, as a precautionary measure against the call for a siege in front of Chief Minister Camp Office today.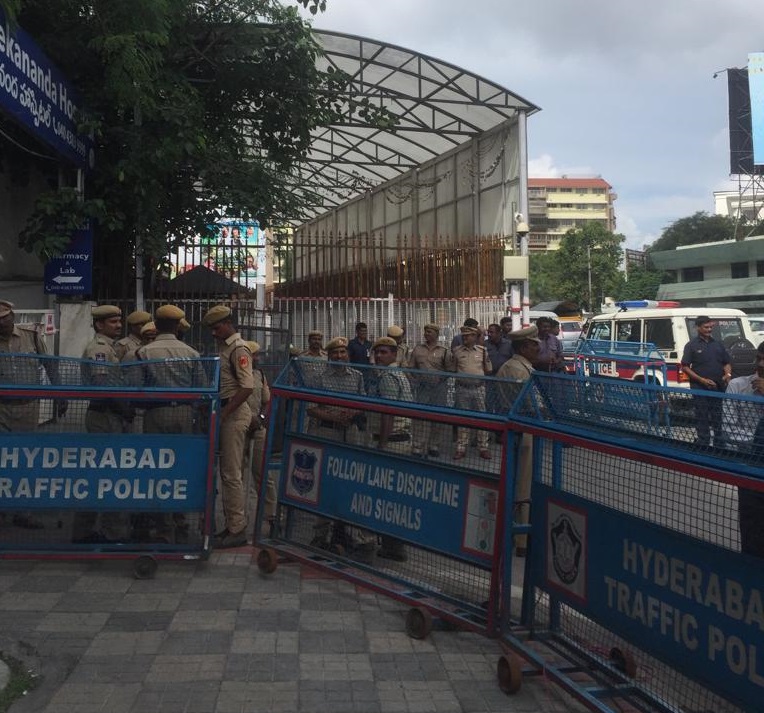 The services at Begumpet metro station were stopped without prior notice, and it left several commuters in difficulty. The shutting down of metro service inconvenienced many students since Begumpet is the destination for several colleges such as St Francis Degree College and Govt Degree College. Many people were unable to reach their offices and workplaces on time. The metro services, however, resumed functioning at 10 am.
A student from St. Francis College said, "We have exams today, and it would have been the worst if we were late for it. Thankfully, services began at 10, so we barely managed to reach on time."
Ramesh, a daily commuter who runs a teashop in Begumpet, said, "I lost most of my morning customers today since tea is consumed more during early morning. If I reach there after ten, what is the point?"
Police checking intensified; Traffic Chaos in Hyderabad
Anticipating the siege in Pragati Bhavan, Hyderabad city police deployed heavy security at all the main check posts in the city, leading to traffic chaos. With schools re-opening today, after an extended holiday, significant areas of the town were stuck in the morning rush, creating jams at different points.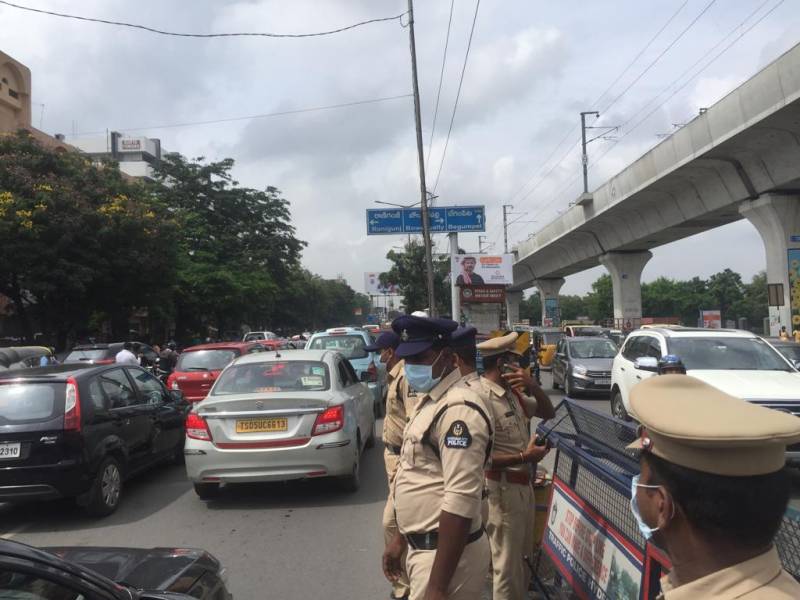 For instance, the area near Paradise metro station witnessed massive traffic as police kept checking vehicles to prevent people from joining the gherao at Pragati Bhavan. A constable from Marredpally traffic police confirmed to NewsMeter that checking was underway at all the critical check posts towards Begumpet and preventive arrest will be made.
Slow traffic was observed in Taj Krishna, City Centre Mall, Care Hospital, Karachi Bakery, Virinchi Hospital, and Khaja Mansion towards Masab Tank. Hyderabad traffic police also issued information about slow traffic from NFCL, Punjagutta X Roads, Somajiguda Circle, and Camp Office towards Greenlands.