Hyderabad: Mughal Gardens is the soul of the Presidential Palace, Rashtrapati Bhavan. This garden draws its inspiration from the Mughal Gardens of Jammu and Kashmir, the gardens around the Taj Mahal and even miniature paintings of India and Persia. Sir Edwin Lutyens finalised the design of the Mughal Gardens in 1917.
It is spread in 15 acres and is a centre of attraction in Delhi. It is famous for its beautiful flowers, rare species of plants and herbs.
On August 18 at 4:31 am, a user named, Anurag Srivastava, tweeted "BIG: Wow, The name of the Mughal Garden inside the Rashtrapati Bhavan is changed to Dr. Rajendra Prasad Garden". This was liked by 5,200 times and retweeted more than 1,000 times.
The same day a slightly edited version by another user named Smita Deshmukh tweeted as "The best news of the Corona period - the Mughal Garden at Rashtrapati Bhavan has now been renamed Dr. Rajendra Prasad Garden."
This tweet by Smita Deshmukh has been liked 14,300 times and retweeted 2,700 times. According to Smita's Twitter bio, she has been a journalist and is now a communications expert.
On Aug. 19, another user tweeted: "This Garden in Rashtrapati Bhavan is no longer Mughal Garden...Welcome to Dr. Rajendra Prasad Garden... Dedicated to our 1st President. Better Late than Never"
This tweet got 546 likes and was retweeted 139 times.
Archived tweets are here, here and here.
Fact Check:
The name of the garden on the official website of Rashtrapati Bhavan remains the same as Mughal Garden. The claim is False.
Hindu Mahasabha has been demanding a change of name and wants the Mughal Garden to be renamed after the first President of India Dr Rajendra Prasad as Rajendra Prasad Udyan but no decision has been taken on this yet.
On August 21, the Information Department of the Government of India, Press Information Bureau (PIB), made it clear by tweeting that the central government has not changed the name of Mughal Gardens.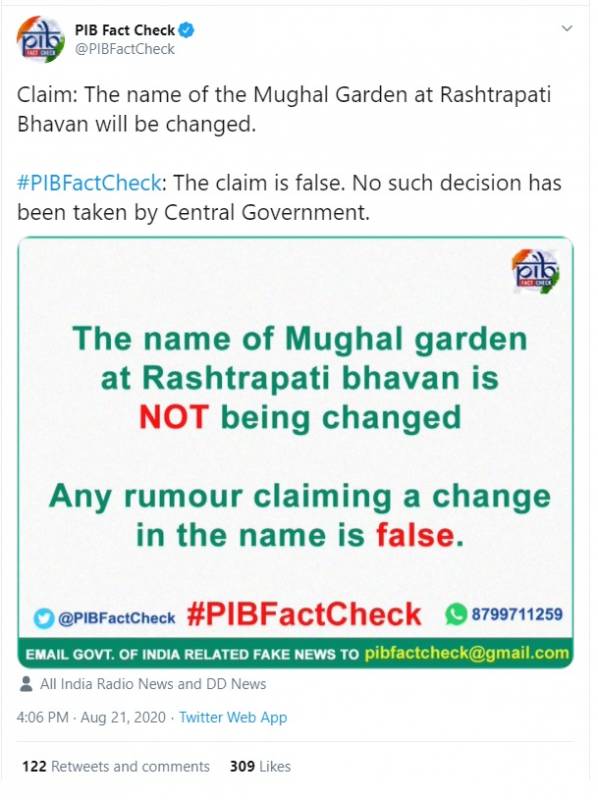 On August 21, the All India Radio news tweeted:
"FAKE NEWS ALERT, It is being claimed across several social media platforms that the name of Mughal Gardens at Rashtrapati Bhawan will be changed. Government denies the claim; says, no decision has been taken to rename the Mughal Gardens".
Hence, the claim is FALSE.
Claim Review :
Mughal Gardens name changed as Dr Rajendra Prasad Garden
Claimed By :
social media users