Hyderabad: An audio clip of a Karimnagar hospital staff refusing to treat a Muslim patient has gone viral on social media. In a recording of a phone conversation between a patient's mother and a hospital staff of Olga Children's Hospital, the latter can be heard denying treatment to the child because the hospital cannot treat patients from the Muslim community.
Taking cognizance of the issue, the Telangana State Human Rights Commission (SHRC) has sought a report from the Health Medical and Family Welfare Department of the government of Telangana, along with other respondents from the Karimnagar hospital on May 4, 2020.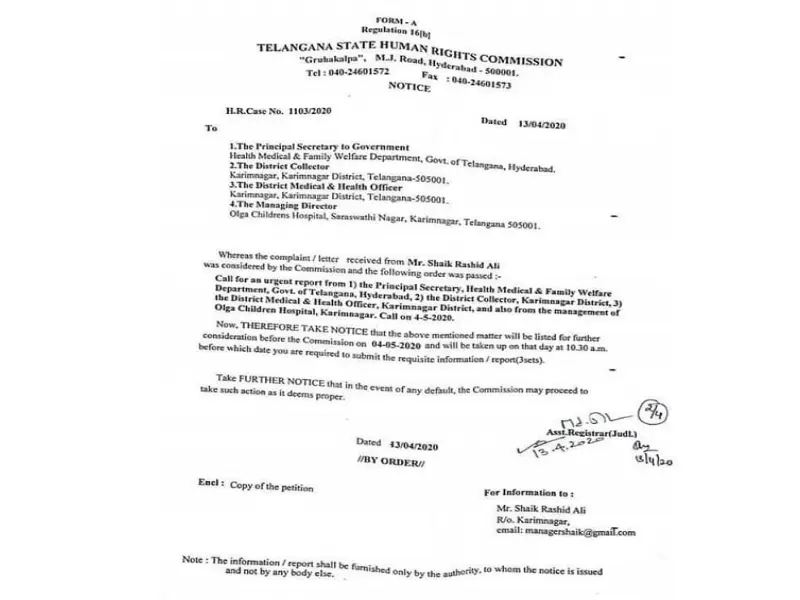 A spokesman for Majlis Bachao Tehreek (MBT), Amjed Ullah Khan, tweeted the audio clip. "@KTRTRS Sir, Shocked to hear an audio from Karimnagar that muslims will not be treated in Olga Children's Hospital, Couldn't believe this happening in TS which has a record of #GangaJamuniTehzeeb, Pl ask @TelanganaDGP & @cpkarimnagar to do in-depth investigate TelanganaCOPs," he wrote.
Following the tweet, NewsMeter contacted Dr G. Sujatha, the medical officer of Karimnagar, who said the issue has been resolved and the doctor has agreed to treat the child. During the investigations, they also discovered that it was not the doctor who had refused to treat the patient but one of the staff members at the reception who had made the alleged claims. "I spoke with the hospital authorities and the doctor who was in charge. We have made sure that the complainant's child got the required treatment. The hospital claims that an argument broke out between one of the staff members and the child's parent without the knowledge of the doctors," Dr Sujatha said.
When asked about the incident, V.B. Kamalasan Reddy, the Karimnagar commissioner of police, said, "We looked into the incident. It was a Muslim lab technician who attended the call and claimed Muslims will not be treated in the hospital. No OPs are allowed in the hospital so the lab technician gave a wrong reply."
Mohammed Ishaduddin, who uploaded the audio recording on Twitter, said, "My sister's child was sick for the past couple of days. On Monday morning we called Olga hospital to take an appointment. That's when the receptionist said Muslims are not allowed to visit the hospital for consultation. Later, when the audio went viral the hospital called us and asked us to come. The doctor checked our child and gave medicines. They also apologised for the initial response."
Hyderabad MP and AIMIM president Asaduddin Owaisi, in a tweet, requested the authorities concerned to take action against the "communal virus". He wrote, "@TelanganaDGP @cpkarimnagar @TelanganaHealth request you to verify & take strict action against this "communal virus" that has now spread to essential healthcare providers. If we don't contain it in time, it'll only endanger innocent Muslim lives."