Hyderabad: In a rare sight, the national flag was distributed on Friday afternoon at Nampally Public Garden in Hyderabad with a message about patriotism after the Namaz-e-Jumma at Shahi Masjid. Maulana Ahsan Al Hamoomi, the Imam for Friday prayer at the mosque, welcomed Namaz-e-Jumma by embracing namazis, sending the crowd a patriotic greeting.
During the Khutba (sermon), the Imam spoke about the present national scenario of the Citizenship Amendment Act and its subsequent protests. He discussed the Prophet's teachings and how the Prophet united and treated everyone equally. "The time has come for us to show our patriotism. We are no lesser Indians," the Imam said.
He urged namazis to hoist the national flag at their residences, stores, offices, business establishments and on their vehicles." It is every Muslim's responsibility to carry with pride the national flag, and it is high time that every Muslim house has a flag on their rooftops," he added. The Imam insisted the gathering on upholding the national flag with the utmost respect.
After the namaz, volunteers handed national flags to more than 2,000 devotees who came for the Jumma prayer, creating an enthusiasm for patriotism. When the Muslim community returned after the prayer, the tricolour waving in their hands send a message of patriotism.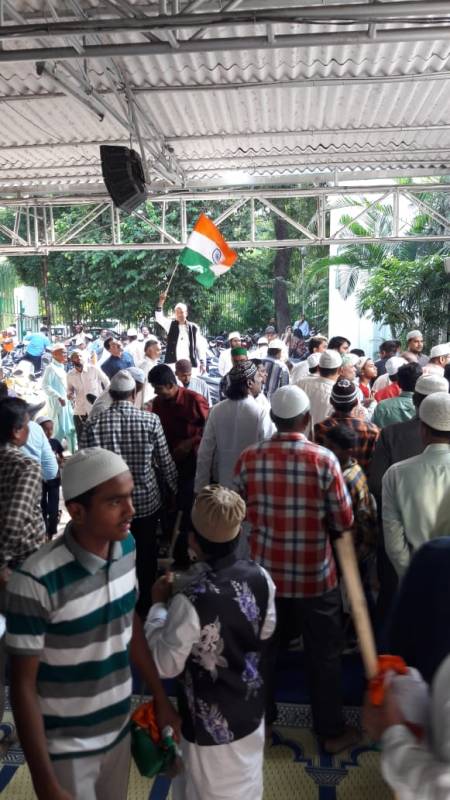 It is the third consecutive Friday where people stepped out in various parts of Hyderabad after the Friday namaz, opposing the Citizenship Amendment Act (CAA). Earlier, All India Majlis-e-Ittehadul Muslimeen (AIMIM) President Asaduddin Owaisi urged people at home to raise the national flag against CAA and NRC.