My GHMC app fails to locate complainants; users cite other issues as well in online reviews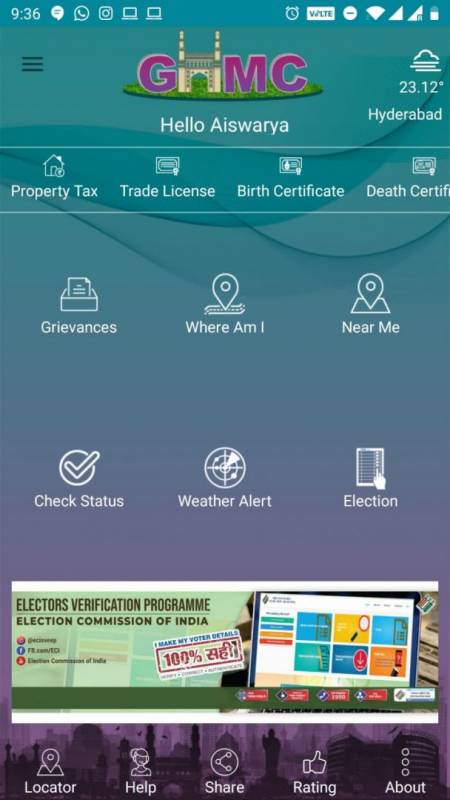 Hyderabad: In a new technical glitch, the 'My GHMC' app was not able to capture or locate the complainants leading to several complaints going unregistered. Many users who tried to file civic complaints with GHMC faced the problem. The app, launched in July 2016, was a popular mode for grievance redressal wherein citizens can register public grievances, pay taxes, download certificates, and submit applications for various purposes.
One among the many complainants, Varsha Bhargavi, said, "I was able to report my complaints a few days back about water stagnation, potholes and garbage in and around Gandhi Nagar. However, for the past four days, I'm unable to register any complaint as the app says that I am outside GHMC limits. I was standing exactly on the spot and the GPS was switched on as well." She noted that the problem persisted even near the labour commissioner's office, which is right in the city centre. "I have tried six complaints so far, and none have been registered," adds she.
My GHMC app has a 3.8 rating on the Google Play store and around 12,000 reviews. Some of the recent reviews are quite critical of it. An app user, Ramit Bhattacharjee, complained in July that the app was unable to capture his location accurately, the same issue which persists.
"When I entered the details of my problem, it just says inconvenience is regretted," said Mohammed Arif, in a review posted on October 6. "The moment you click on mosquito section, this app crashes, and I have never been able to open that section," commented Yousuf Mohammed in the app's review. Shalini Pilli, a resident from Miyapur, opined that the app is generally good, but there were difficulties in finding which category each complaint goes to.
Other complaints mostly demand a proper response from GHMC, resolution of server issues and app crashes. The more significant questions are whether the redressal mechanism of the app is in place, whether there is an update after clearing each complaint, and whether complainants are notified of the same.
When asked about the complaint, Sai, Assistant engineer, IT Wing of GHMC told NewsMeter that it might be possible that citizens are raising complaint from a different location. When it was confirmed that this was not the issue, the complainant was asked to re-install the app and check again.
Also Read: https://newsmeter.in/ghmc-drf-rescues-dog-stuck-in-well-for-three-days-at-secunderabad/