Hyderabad: Thakur Tilak Varma has become a household name across the world for his exploits in the recently concluded U-19 World Cup. Belonging to a family of sportspersons, his father, Nagaraj, was a league cricketer who played for BHEL. His mother, Gayatri Devi, was a national level sprinter. His elder brother, Tarun, is a national-level badminton player.
His 90-run partnership with Yashasvi Jaiswal in the final of the U-19 World Cup was very crucial. Tilak, in spite of being hit on the knee, showed nerves of steel and stayed in the middle with Jaiswal.
In an exclusive interview with NewsMeter, he poured his heart out about his past, present and future.
When did you start playing cricket?
I was six when I first started playing cricket. It started with a tennis ball. I started playing professional cricket when I was 9. I joined Legala Cricket Academy. At the age of 12, I was selected in the U-14 team for Hyderabad. Then there was no looking back. I played for U-16 and U-19 teams before making my Ranji Trophy debut last year.
Tell us about your coach, Salam Bayash?
Sir played a very crucial role in my career. I was very nervous when I played U-14 tourney. It was Sir who came to my rescue. I vividly remember his words: 'Even when you represent the senior Indian team, the basics should stay with you. So follow your basics. Everything will get easy'. He supported me through thick and thin. He made me practice for 8-9 hours a day. Whenever I faced any difficulty, he used to tell me: 'You should do it this way. Work a little on this one.' That helped me a lot.
How did you master the basics?
I'm very quick in running between the wickets. Right from childhood, I was athletic and fast at running. That was not a big problem for me. In cricket, calling and understanding between the partners is very crucial. Sir taught me very well. When it came to driving, one should have a high elbow, shoulder falling in the ball's line and the head being still. I kept practising it till perfection.
Tell us about your strengths?
Cricket is all about believing in your strengths. Some are strong in driving the ball, some love square cut and some like pull shot. So I believed in my strength and tried to overcome my weaknesses. Even in the match, I focus on my strengths and take singles or doubles. When it comes to my strengths, I give my 100%.
How did you react when you were selected in the Indian team?
My parents and family were very happy. It was the proudest moment when I represented India in the World Cup. They had a lot of hopes. Sir was expecting me to do well and win it for India. We played very well. We won all the practice matches and the series before that. Even in the World Cup, we gave a tough fight in the final.
What was the feeling when you scored a hundred against Pakistan in the Asia Cup?
It felt very good. I scored a hundred playing for the first time against Pakistan that too for my country. Right from my childhood, whenever I saw the India vs Pakistan match, I wanted to go in the middle and score a hundred. I batted at No.3 in a pressure situation as the first wicket had fallen early. Their fast bowlers were bowling really well, especially Naseem Shah. He's playing for the senior cricket team now for Pakistan. He was very good. I was a little nervous and took my time on the wicket and then it became easy for me. When I was playing on 30, the partnership was very crucial. My partner Arjun Azad was playing on 50. The partnership was going really well. Both of us decided to stay at the crease. We did it till the 40th over. Both of us scored tons and had a partnership of around 180-200. It felt very good when we won that match.
How do you mould your role in different situations?
Your role changes in cricket. When a wicket falls, my role changes. At the same time if the openers have a good partnership, my role changes. Sometimes I have to play attacking cricket right from the start. And if the wicket falls early, I have to take some time and play. So I practice accordingly. Sometimes it is about playing fast and sometimes it is about leaving the ball. The role keeps changing. Mental strength is really important. That comes easy with practice.
What was the feeling when you stood there for the National Anthem with the team?
The feeling was amazing! It can't be expressed in words. Feels from within, Wow! We used to see senior cricketers and now the crowd is cheering for us. It can't be described, but again it is an amazing feeling.
Take us through your first World Cup match experience?
Speaking of the World Cup, I was playing at No.3. The opening partnership was good. It was something around 40-50. Even when I went into the middle, I was nervous because it was my first match. What I did here was similar to what I did against Pakistan in the Asia Cup. Took my time and had a good partnership but unfortunately got out on 46. Later on, there were good partnerships in the middle-order from Siddhesh Veer, Dhruv Jurel and Priyam Garg. We set a target of 296. They had a lot of problems because 296 was a good score on that wicket. They were completely on the back foot that India had scored 296. The bowler with a similar action to Malinga was good.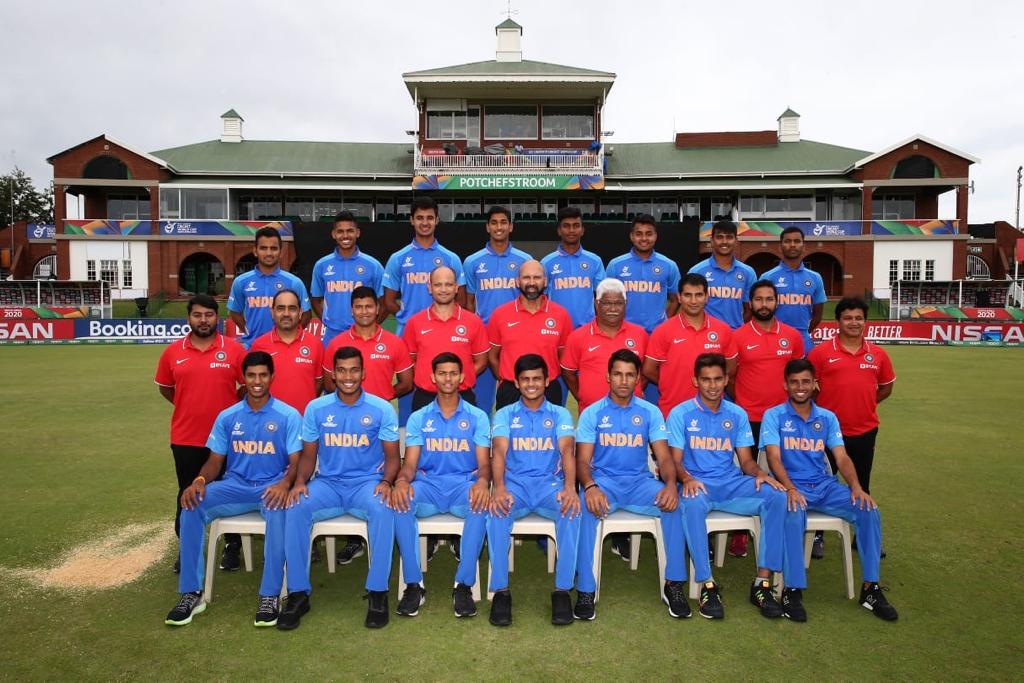 Keeping aside the final, take us through the game against Australia?
It rained for two days before the Australia game. The wicket was seaming and had a little grass on it. When we went in to bat, there was a lot of seam and bounce for the bowlers. So we thought 230-240 would be a good total on this wicket and went in with that mindset. We had a very good opening partnership. When I went in at No.3, unfortunately, I got out. Priyam Garg, the skipper got out as well. So the middle-order took the responsibility. Atharva Ankolekar, Siddhesh Veer and Ravi Bishnoi played very well and we went on to score 230. It was a very good score on that wicket. When it came to our bowling, Karthik Tyagi took 3 wickets and they were on the back foot. We built pressure right from the first 3.
It was India vs Pakistan in the semi-final. How was the feeling?
We did not treat it something special despite playing Pakistan. It was just another game for us. A big one. But just another match. It was all about following the basics which we did from the beginning. All the support staff, Paras Sir, Rishi Sir, Abhay Sir, told us that we did well in the Asia Cup and get our basics right. We just followed that and the result was good. They were bowling really well at the start. Jaiswal scored a 100 and Divyansh a 50 and we won the match.
Did you expect Bangladesh to be aggressive?
We played against Bangladesh in Asia Cup and England. They were aggressive on the field. We knew they would come at us. When they were aggressive and throwing the ball at us, we didn't react much and focused on the game. As the opening wicket fell early, I and Jaiswal had a good partnership. He played well but the middle-order collapsed. But still, we posted 177 and believed that it was defendable. Our bowling attack was lethal. Ravi Bishnoi bowled really well and took 4 back to back wickets. He brought us back into the game.
How did your team counter Bangladesh's aggression?
They had a nice opening partnership. We were calm because we were waiting for a wicket to fall. So when the wicket fell, we were aggressive and put pressure on them. They had 4 back to back dismissals. Their captain played really well. Sushant then took a couple of wickets as we made a nice comeback. Then the DLS method turned the game.
How did you overcome pain and play that crucial innings? That partnership with Jaiswal?
When I went in, we thought that it was okay not to have a big score on board in the first power play because the wicket was helping. So we thought that we should have a good partnership till the 40th over. I played accordingly and punished the loose balls, and had a good partnership. I was hit on the knee during the innings. I thought that I should play at any cost because it was the U-19 final. It is important for the team because I play at crucial No 3 position. So I called in the Physio and got my knee taped. We had a nice partnership.
How were you feeling when the match was nearly getting over?
When they were 7 down, their captain was in the middle. We thought even if we get one wicket and 10 runs to defend, it'll not be an issue. It was all about one wicket. The game can be finished at any time. It was about 3 good balls. So we were hoping that we can win the match at any point of time. Even when we had 15 runs to defend, we had a hope to win. Unfortunately due to the rain and the DLS method, it became 6. We did not give up. Rakibul Hasan hit a boundary as the ball from Sushant Mishra missed the Yorker and we lost the final.
What happened after the final? Everyone wants to know. What exactly happened?
When we went in to bat, Bangladesh was aggressive. When we were on the field, we were aggressive and put pressure on them. But they played well and won. As it was their first World Cup final, they were aggressive but we didn't react. When they spoke about our country, a couple of players were harsh. We shook our hands 10-15 min later and finished it.
What do you have to say on Priyam Garg, the captain?
He is a very experienced and mentally strong player. He backed us. He played very well in the domestic and scored runs in the Ranji Trophy. He is very calm and focused on the game. He is a very nice captain. Even in pressure situations, he stays calm. Even in the final, he didn't take any pressure. As they were scoring runs, he kept telling us that it'll happen and backed us. We'll keep trying.
What's in store for Tilak Varma in coming times?
For me, the next 4-5 months are all going to be about improving my fitness and working on my strengths. I will follow Paras Sir, Rishi Sir and Rahul Sir. Then there is upcoming Ranji and domestic season. If I perform well, I will be in India A and then hopefully Team India. So my main focus is on Ranji Trophy.
How does it feel being with Rahul Dravid?
Rahul sir is very nice. Whenever we go through a bad patch, he encourages us to the hilt. He also says not to take any pressure and follow basics which will always help. He keeps us saying follow the process. It will be boring, but that is how you will be successful. He has always been like a friend and not a coach. He was always there for us. He was with us a month before the World cup. Later he called and messaged us. He always says whatever may be the result, follow your basics.
Tell us about your diet, training, gym sessions?
I was the highest run-getter in the U-16 category following which I was called to the NCA. Anand sir, our trainer, made a list for fitness, gym, strengthening and diet. The gym schedules keep changing but whatever Anand Sir gave, helped a lot. We follow everything. Running, Gym, Diet. I do practice for 8-9 hours.