Visakhapatnam: Unlike most Vizagites, who enjoy their weekend partying, the Sea Force and city police set out on a mission to clean the beaches on the occasion of International coastal clean up day . The Eastern Naval Command (ENC) of Indian Navy, Indian Coast Guard (ICG) and City Police undertook a coastal clean-up drive in Visakhapatnam on Saturday by cleaning city beaches.
Marking the International Coastal Cleanup Day on September 21, over 5,000 participants consisting of Navy, Coast Guard, Defence personnel, KV students, NCC and SCC cadets undertook a massive coastal clean-up drive at major waterfronts of Vizag.
Chief of ENC, Vice-Admiral Atul Kumar Jain formally inaugurated the drive at RK Beach in Vizag. Participants were divided into 14 groups to clean various areas under Ramakrishna beach, Tenneti Park, Yerada beach, Jalaripeta, Jodugulla Palem and Kalinga beach in addition to other areas under the Navy and Coast Guard. The International coastal clean up day event aimed to create awareness among civilians to keep beaches clean and to support the noble efforts of GVMC in making 'The City of Destiny — Vizag' a clean city.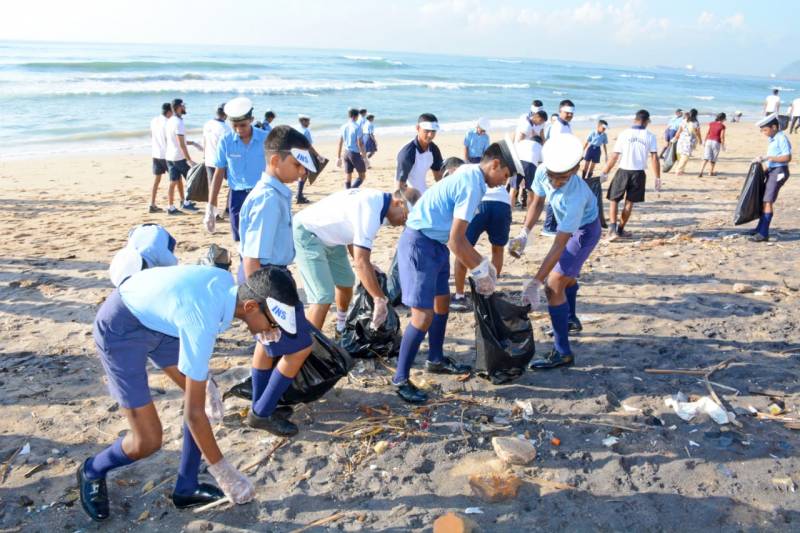 Our forces spread the message on making the beach litter-free zone to visitors. Even though the beaches are free for all, we do not treat, respect or admire them properly, said City Police Chief RK Meena. Atul Kumar noted that while Vizag has beautiful beaches, some visitors dump litter there without any concern for others or the environment. "It is clear that plastic pollution is the biggest threat to marine ecosystems and terrestrial wildlife. We have to mitigate the use of plastic, as it does not decompose and tend to accumulate rapidly," he added.
Similar beach campaigns were taken up across the Country including Chennai on the occasion of International coastal clean up day .
The Eastern Command of Indian Coast Guard organized a mega beach clean up operation at Elliot's Beach in Chennai, in view of International #CoastalCleanupDay.

900 tons of garbage collected from the beach. Volunteers from among public, NCC, NSS & youth clubs also participated. pic.twitter.com/5AeEkRXedA

— All India Radio News (@airnewsalerts) September 21, 2019