Kochi: In a bid to strengthen the opposition, Kerala Chief Minister Pinarayi Vijayan wrote to 11 CMs including West Bengal's Mamata Banerjee and Delhi's Arvind Kejriwal. The Kerala CM called out for a united opposition against the Citizenship Amendment Act.
Mr Vijayan addressed the CMs of 11 non-BJP states — Andhra Pradesh, Bihar, Delhi, Jharkhand, Maharashtra, Madhya Pradesh, Odisha, Punjab, Puducherry, Rajasthan and West Bengal — in his letter.
This move comes after Kerala Assembly passed a resolution against CAA, terming it unconstitutional. The state assembly also requested the Union government to repeal this Act.
Following the Kerala assembly's decision, the state's Governor Arif Mohammed Khan said that the Citizenship Act is purely a Central subject. "Moreover, in Kerala, there is no issue of any illegal migrants. Hence, this resolution passed by the Assembly has no Constitutional or legal validity."
NEED OF THE HOUR IS UNITY: VIJAYAN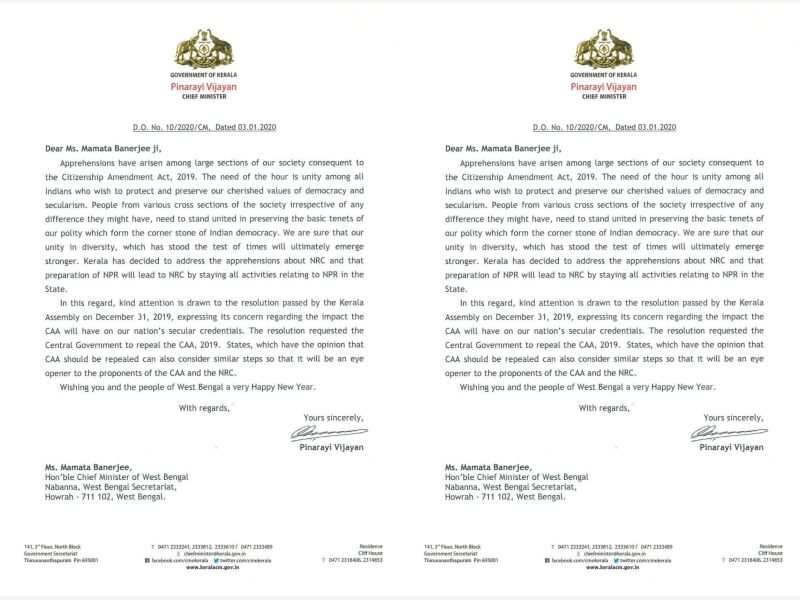 In his letter to 11 CMs, Pinarayi Vijayan wrote, "Apprehensions have arisen among large sections of our society consequent to the Citizenship Amendment Act 2019. The need of the hour is unity among all Indians who wish to protect and preserve our cherished values of democracy and secularism."
The Kerala CM also requested the states to consider a similar step taken by Kerala Assembly against CAA. "States that have the opinion that CAA should be repealed can also consider similar steps so that it will be an eye-opener to the proponents of CAA and NRC."
PUNJAB CM WRITES TO RAVI SHANKAR PRASAD AGAINST CAA
Earlier in the day, Punjab CM Captain Amarinder Singh wrote to Union Law and Justice Minister Ravi Shankar Prasad, slamming him on CAA.
Captain Singh wrote on Twitter, "As the leader of the state, I took my oath under the Constitution @rsprasad Ji. I'm neither naive nor misguided & it's my duty to represent the voice of my people & Centre must pay heed to same. As the law minister, you'd know that #CAA fails the test of the Constitution (sic)."
As the leader of the state, I took my oath under the Constitution @rsprasad Ji. I'm neither naive nor misguided & it's my duty to represent the voice of my people & Centre must pay heed to same. As the law minister, you'd know that #CAA fails the test of the Constitution. 1/2 pic.twitter.com/QKa68CDGi4

— Capt.Amarinder Singh (@capt_amarinder) January 3, 2020
In the follow-up tweet, the Punjab CM said, "I am seriously concerned that #CAA can be easily misused for infiltrating into the country, particularly in border states like Punjab. It's a potential threat to national security @rsprasad Ji. Does the @BJP4India led central govt even know what it's doing? (sic)."