Hyderabad: Satellite data has revealed Mamasani Kunta water body has allegedly been encroached by Phoenix Spaces Pvt Ltd.
According to Google Earth data, concrete constructions have come up around the water body and its connected channels.
National Green Tribunal has constituted a three-member committee to look into the issue. The committee has been asked to respond within two months.
"If there exists a lake, it has to be restored. It will be restored. From the satellite data it is very evident that a lake exists in the area," said the tribunal.
Dr. Lubna Sarwath, an environment conservationist who filed a petition in the tribunal for the revival of Mamasani Kunta said the Phoneix group has occupied the water body for five years.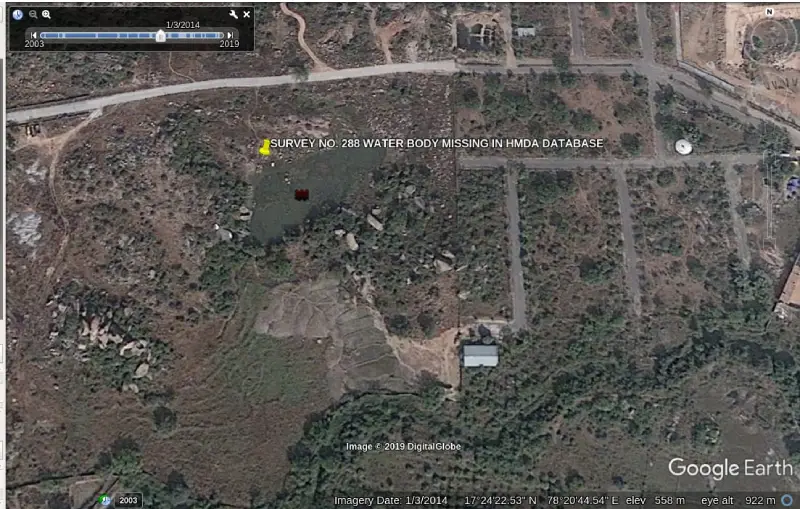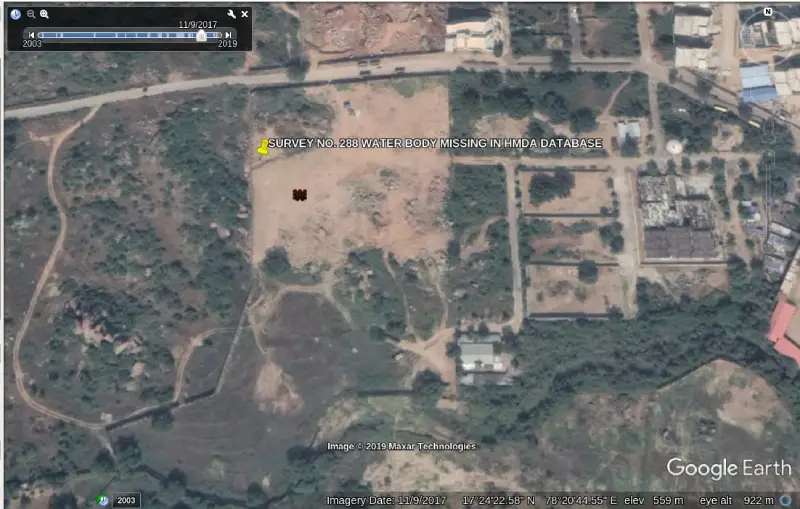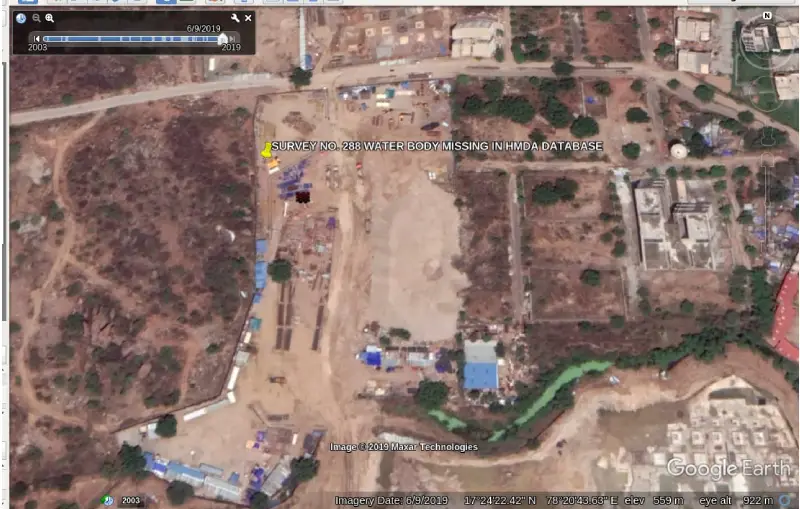 "Huge concrete constructions have come up in front of the culvert. We are waiting for an order for demolition of constructions in the water body," Dr. Lubna said.
Collector Rangareddy, MRO Gandipet, irrigation officer of Rangareddy, executive irrigation officer of lake protection committee, principal secretary and CSIIC Vice-Chairman, who gave permission to Phoneix for construction, have been made respondents in the case.
However, the tribunal has followed the age-old practice of nominating the respondents to the investigation panel. Collector Ranga Reddy and a senior official from the HMDA Lake protection committee along with MOEF Southern bench Chennai have been tasked to investigate the matter.
The actual area of Mamasani Kunta is not known because its FTL is still not demarcated. "The connecting inflow channels of Mamasani Kunta and Balkapur channel has been barricaded by Phoenix Spaces Pvt ltd," said Dr. Lubna.
An official said the MRO Gandipet had started excavation both at service road and Balkapur channel, as part of the restoration. "The work is in progress," he said
Mamasani Kunta water body has been notified in HUDA Master Plan, HMDA Master Plan 2031, Bhuvan's Topomap, and ISRO's Telangana water resources Information System. It can be identified on Google Earth satellite imagery.
After the survey, it was found that the Mamasani Kunta water body has been fully destroyed and constructions are ongoing in the water body.