Hyderabad: On a chilly November morning last year, a charred body of a young doctor was found below a culvert in the outskirts of Hyderabad. The 26-year-old was gang-raped, murdered and burnt to erase all possible evidence by the rapists. In less than 2 weeks, the four accused of rape and murder were killed in an alleged encounter.
The Disha gang-rape and murder is one among the 873 rape incidents reported in Telangana in 2019, according to the latest data of National Crime Records Bureau.
Data reveals 4190 cases of assault on women with intention to outrage modesty were reported in the state. The state also witnessed 677 of sexual harassment, 24 torture at work and 163 dowry deaths.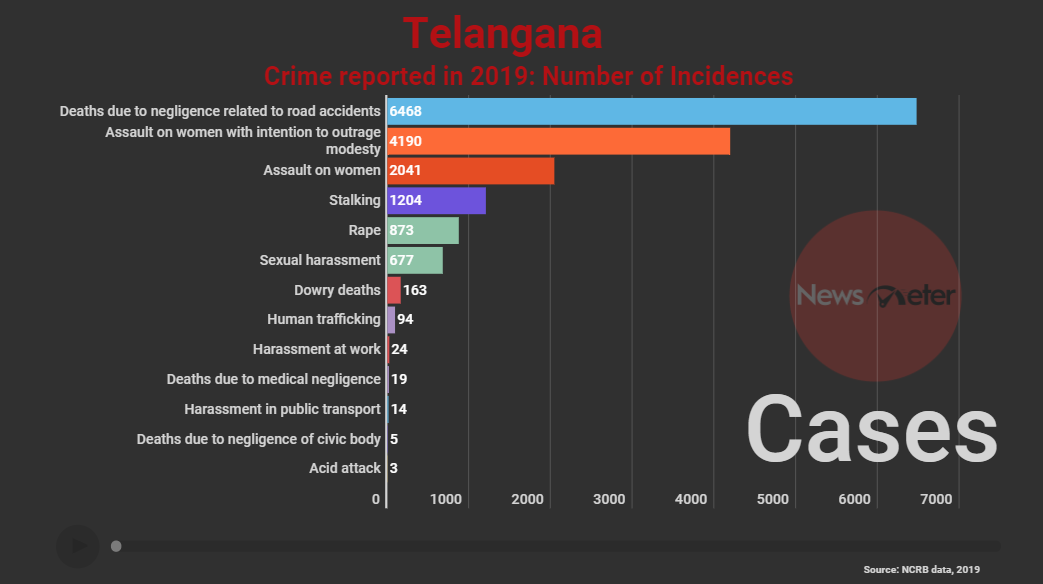 Across the country, 4,05,861 cases of crimes against women were reported in 2019 and Uttar Pradesh topped the list with 59,853 such incidents.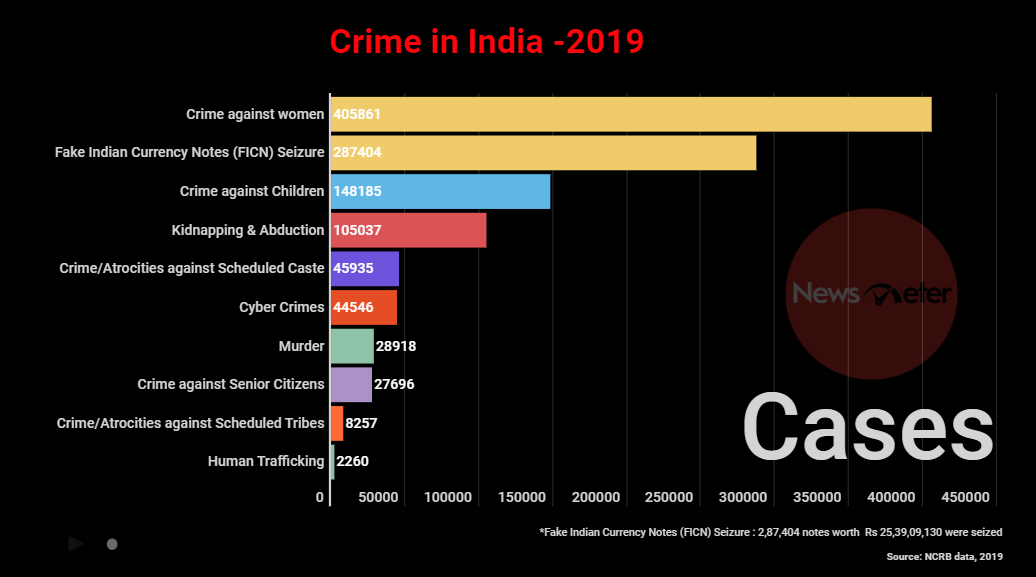 Majority of crimes against women were registered under 'cruelty by gusband or his relatives' (30.9%) followed by  'assault on Women with intent to outrage her modesty' (21.8%)
The NCRB collected data from 36 states and Union Territories and 53 metropolitan cities. Crime in India – 2019 deals with the crime data which refers to the calendar year (1st January to 31st December of 2019).
Hyderabad reported 15333 crime cases booked under Indian Penal Code, of which 12039 cases have been charge-sheeted and 16626 have been disposed. The pendency percentage is around 12.7 %.
Fast track courts:
There are 466 cases currently being heard in the fast-track courts. Around 247 cases are pending for more than 3 years, while 135 are awaiting trial for even longer period.
Missing children:
The total number of children missing/untraced in Telangana stands at 655. Data shows that more number of girls (362) are still missing compared to boys( 293) .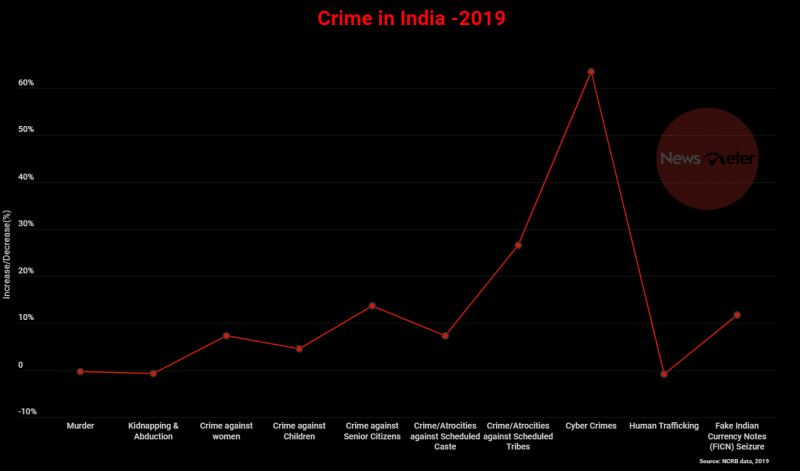 Over all Crime rate:
A total of 51,56,172 cognizable crimes comprising 32,25,701 Indian Penal Code (IPC) crimes and 19,30,471 Special & Local Laws (SLL) crimes were registered in 2019. It shows an increase of 1.6% in registration of cases over 2018 (50,74,635 cases).
During 2019, registration of cases under IPC has increased by 3.0% whereas SLL crimes have declined marginally by 0.6% over 2018. Percentage share of IPC was 62.6% while percentage share of SLL cases was 37.4% of total cognizable crimes during 2019