Hyderabad: Addressing the concerns of IT employees fearing lay-offs amid the COVID-19 crisis, Telangana's minister for information technology K. Taraka Rama Rao has appealed to the IT industry in the State to not go for job-cuts or termination of employees.
In his letter addressed to the employers in the IT industry, KTR said, "On behalf of the government, I appeal to you to ensure that no employee, regular or contractual or outsourced, loses his job, whatever be the situation."
He further added that IT employers may consider other forms of cost-cutting, since companies are facing an evident revenue loss due to the nation-wide lockdown. "As a company, you may consider other forms of cost-cutting including pay cuts, deferment of increments/bonuses etc," the IT minister said.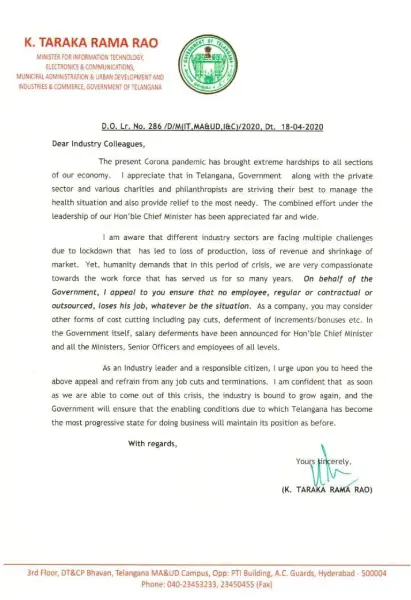 Taking into consideration the challenges faced by the industry due to the lockdown, the IT minister went on to say that amid loss of production, revenue loss and shrinkage of market due to the pandemic, there is a need to be compassionate towards the work force that has provided services in the State. The minister hoped "as soon as we are able to come out of this crisis, the industry is bound to grow again."