Hyderabad: Hyderabad airport is the first airport to introduce wheelchair lifts in the airport premises. However, a passenger recently alleged that the Rajiv Gandhi International Airport (RGIA) is charging Rs 1,000 for wheelchair assistance.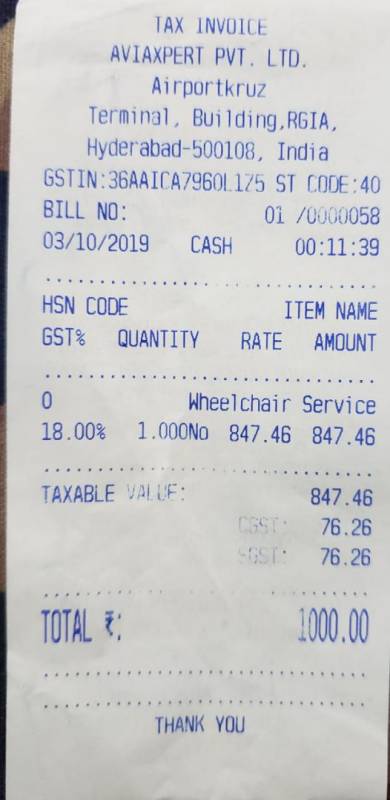 Taking to Twitter Majlis Bachao Tehreek (MBT) leader and Hyderabad resident Amjed Ullah Khan tweeted, "Its very astonishing that @RGIAHyd is charging Rs 1000 for a wheelchair to the physically handicapped passenger? The Airlines are not providing wheelchair to passengers inspite of pre-request during Air booking (sic)."
According to airport authorities, wheelchair facility is directly provided by the airlines. Passengers need to contact the respective airlines to avail the free services.
Responding to Mr Amjed Ullah Khan, RGIA replied, "The wheelchair is provided directly by the Airlines and the passenger has to reach out to them to avail free service. We also have a help desk where we assist the passengers to get in touch with the Airlines for such requests."
"The optional service at RGIA is a pay-at-point facility providing a motorised wheelchair to passenger who might need it at the last minute and are unable to book it with their respective carrier. We will also check with the Airline that if a request for a wheelchair was made, why was the service not extended by them?"
While explaining the incident Mr Amjed Ullah Khan told Newsmeter Network, "On Thursday we went to the airport to drop my sister as she was traveling to the US. My sister has a knee problem, and I requested for a wheelchair for her. I was charged Rs 1,000 from the entry gate to exit gate. Previously, airlines used to have their own wheelchairs services, but now, every airport has private wheelchairs and we have to depend on these private services".
Can airlines charge for wheelchair assistance at the airport?
As per the rules of the Directorate General of Civil Aviation(DGCA) all stakeholders should ensure the following requirements in order to facilitate passengers, particularly senior citizens, pregnant women, passengers with disability, first time travellers, etc
• Airline/airport operator shall ensure provision of automated buggies free of cost for all senior citizens, expectant mothers and disabled passengers in the terminal building to facilitate their access to boarding gates located beyond reasonable walking distance at all airports having annual aircraft movements of 50,000 or more.
This facility may be extended to other needy passengers on demand basis free of charge.
• Airport operators shall provide small trolleys after security check for carriage of hand baggage (permitted as per regulation) up to the boarding gate.
• Airport operator shall adequately display information regarding availability of automated buggies and small trolleys in the terminal building at prominent locations including dos and don'ts regarding the same. This shall also be published on the website of the airport operator.