Vishakapatnam: A pregnant woman had to be carried in a makeshift stretcher, known in local parlance as Doli, for over seven kilometres to get an ambulance. The incident took place in the agency area of Vishakapatnam in Andhra Pradesh.
The woman was carried on the makeshift stretcher from her residence at Vallayi tribal hamlet under Paderu Mandal in Visakhapatnam district on Wednesday due to lack of proper road connectivity to her village.
Twenty-year-old pregnant woman K Surya Kumari was able to get the ambulance after her relatives carried her on a Doli. The medical convoy could not reach her village because of the poor road connectivity. Not only four-wheelers but also two-wheelers couldn't travel on the hilly and slippery pathway.
After arduous efforts, the woman was admitted at Primary Health Centre at Minumuluru under Paderu Mandal, and she is availing treatment.
Kumari's husband and her relatives said that due to lack of road connectivity to their village, those faced with a medical emergency have no other option than to carry the patients on doli. Surya Kumari developed labour pains on Wednesday afternoon.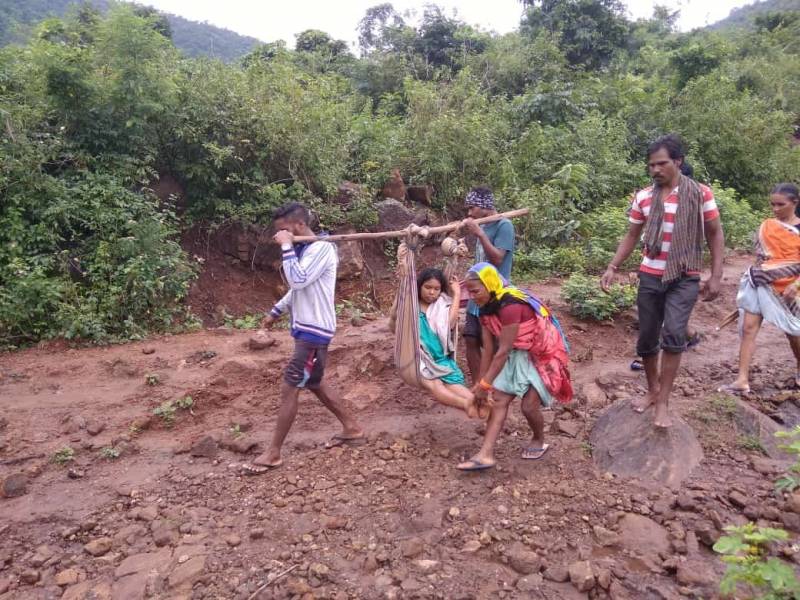 This is the sixth such incident in North Andhra Pradesh region being reported in the past one year. A few days ago a pregnant woman , Killo Kanthamma , had to be carried in a makeshift stretcher which was over 4 kms from her Bushipalli village under G Madugula Mandal in Visakhapatnam district.
Expressing concern over the incidents, CPM leaders B Lokanatham and K Surendra said that the successive governments failed to create the necessary infrastructure in tribal pockets of North Andhra. He asked chief minister YS Jaganmohan Reddy to provide road connectivity to tribal areas so that such incidents would not repeat in the future, they added.