Hyderabad: 'No increasing any kind of fee during the academic year 2020-21', said Hyderabad district education officer in a notice to all private unaided recognized schools affiliated to State board, CBSE, ICSE, and international boards. Non-compliance with the government order will result in the cancellation of school recognition, he said.
The director further stated that any form of violation of the government order will result in "revoking the No Objection Certificate already granted for affiliation to other boards and initiation of appropriate action against the school management under relevant Acts/ Rules."All the deputy Education Officers and deputy Inspectors of schools of Hyderabad have been asked to take action in case of any violation.
The order comes at a time when several parents, including the Hyderabad Schools Parents Association (HSPA) have alleged that most of the educational institutions are violating the Telangana government's 'no fee hike rule'.
On April 24, 2020, the Telangana government issued GO instructing schools not to hike fees this academic year given the nationwide lockdown.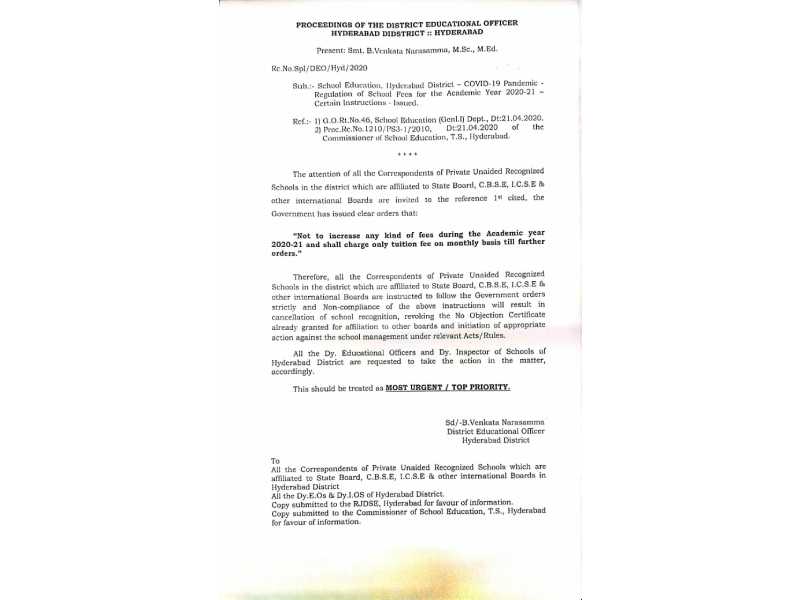 "Not to increase any kind of fees during the academic year 2020-2021and shall charge only tuition fees on a monthly basis till further orders." the government has said.
Some private schools have communicated to students that they will charge only tuition fees. But, there are still schools that have simply refused to comply with government orders. Parents said some schools are charging activity fees, annual fees, food fees, etc under the garb of the tuition fee. Seema Agarwal, Member, Hyderabad School Parents Association (HSPA) said some schools are simply cheating the parents by dividing the whole fee amount into monthly installments.
Few parents have written to schools for clarification/breakup of the manipulated term fee/monthly installment. However, the schools didn't bother to respond until now, the members said.