No smartphones, no computers: Visually challenged students struggle to access online classes in Telangana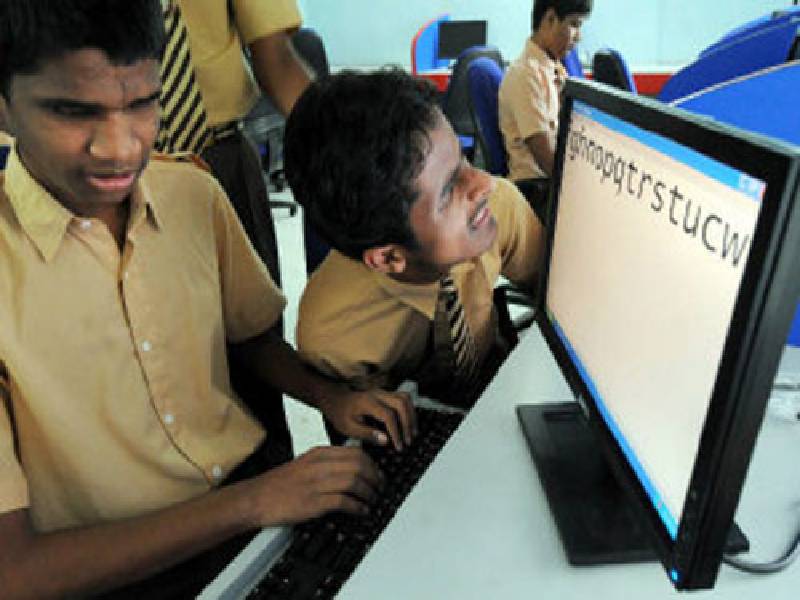 Hyderabad: Visually challenged Class 10 student Naman Parakh misses the classroom and his teachers. Ever since the COVID lockdown, Nayan had been confined to a home trying hard to access the online classes. His disability is proving to be the biggest hurdle in adapting to the new environment of virtual classrooms.
"We used to interact with our teachers directly. We hoped to go back to school. But that day is yet to arrive. I am still waiting for that day," said Naman, a Class 10 student at Devnar School for Blind.
What has compounded his problem is the use of smartphones. "In our school, smartphones were not allowed. We didn't know how to use it. One day suddenly we are asked to operate smartphones," said Naman.
Nayan is not an isolated case. Many physically challenged students have not been taken into account by the education planners while formulating the policy.
"It's the curiosity that still makes me use these Applications. While attending the class, I can understand what teachers are saying. The problem starts when visuals or slides are shared," said P Shiva Reddy, B.Com student from the Indian Institute of Management and Commerce, Khiratabad.
Not only students but their teachers are also finding it difficult to impart education.
"Most of the students are from poor backgrounds. They don't have smartphones. We cannot use a zoom or any other video conferencing applications. For us, the easiest option is WhatsApp. Many of the students can access Whatsapp on Jio keypad phone. We send our recitation or explanation of the lesson through WhatsApp audio," said G Hogla, English teacher at Devnar School for Blind.
Teachers also feel that the response to WhatsApp comes late. "Sometimes you have to give extra help. On WhatsApp, we are not able to provide the help they require" said G Hogla.
Few parents had to buy new phones so that their kids could access online classes. "It's not easy for us to navigate through a smartphone. So my parents purchased Jio phone. This pandemic has positive as well as the negative impact on us. The positive impact for us is that we are getting familiar with computer and mobile," said Anil, a visually challenged class X student.
A survey conducted by Telangana State United Teachers' Federation has revealed that 39.6 per cent of school-going children's families do not have smartphones. In comparison, 48.9 per cent of families have only one smartphone in their homes.
"Some of the students are using parents' phones. If the parents are out, these students don't have access to WhatsApp," said Anil, a visually challenged class 10 student.
[video mp4="https://newsmeter.in/wp-content/uploads/2020/07/WhatsApp-Audio-2020-07-30-at-3.53.02-PM.mp4"][/video]
Sample of Demonstration using NVDA screen reading software is sent to the students on their WhatsApp
Students are also missing labs and practical sessions. "Only 10 per cent of students have access to computers. Most of these students don't have non-visual desktop access (NVDA). We can only teach theory through audio lessons. Because of the non-availability of infrastructure, students lag behind," said Gowri Oraganti, a computer teacher.