Hyderabad: In a move to fight plastic during the Ganesh festival, the Greater Hyderabad Municipal Corporation (GHMC) has arranged recycle bins at Ganesh pandals, so people can drop their plastic waste. The initiation is to promote 'No to single-use plastic.'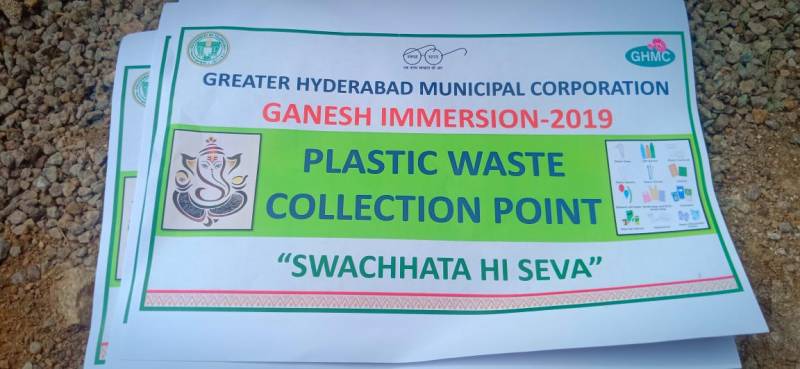 The assistant medical officer for Health (AMOH) Serilingampally tweeted "GHMC has initiated steps for "No to single-use plastic" at Pandals @GHMCOnline @CommissionrGHMC
arranged bins made of recycled plastic for collecting plastic waste at all Ganesh immersion points for proper disposal if any plastic still found in these locations @zcwz_ghmc (sic)."
GHMC has initiated steps for "No to single use plastic" at Pandals @GHMCOnline @CommissionrGHMC

arranged bins made of recycled plastic for collecting plastic waste at all Ganesh Immersion points for proper disposal if any plastic still found in these locations @zcwz_ghmc. pic.twitter.com/9UmdAoNqtx

— AMOH Serilingampally (@AMOH_C20) September 11, 2019
The recycled bins are manufactured using 23,500 kg plastic waste that includes plastic pet bottles, plastic bags, shampoo bottles and toothpaste packets. Each bin consists of 30 kg of plastic.
GHMC additional commissioner Musharraf Ali Faruqui, in a tweet, mentioned that during the Ganesh festival an additional 1,000 metric tonnes of waste would be generated.
40 Huge Cranes set into operation by #TeamGHMC @ Tankbund

130+ mobile cranes

50 Static cranes

38000+ Lights

15km barricading

10000 Personnel

Massive road repairs

Addl 1000MTs of waste

All arrangements in place for #GaneshNimajjanam2019

Have a great festive experience pic.twitter.com/qgmFn7Jf1b

— Musharraf Ali Faruqui (@musharraf_ias) September 10, 2019
Forum for Good Governance, on Wednesday, requested the Governor and Chief Secretary of Telangana government to impose a total ban on single-use plastics like carrying bags, banners, buntings, flexies, plates, cups, spoons, cling films, sheets (used for spreading on dining tables) etc.
In a letter written to the Governor, M. Padmanabha Reddy, secretary of Forum for Good Governance said, "So far there has been no response from Chief Secretary, Telangana on imposing a total ban on the single-use plastics in the state and encourage biodegradable alternatives. There is indiscriminate and unregulated use of plastics, particularly single-use carry bags."
Recently, Prime Minister Narendra Modi at a climate crisis meeting said, "India will ban single-use plastic in coming years."
The government of India has announced that it will ban six plastic items from October 2, the occasion of Gandhi Jayanti.