Hyderabad: Hyderabad: Even as the Central government began running Shramik special Trains for migrant labourers to go back to their home states since May 1, several migrant workers allege that officials have not contacted them even ten days after they were given the pass.
Consider the case of Ramesh Shah, a migrant worker from Bihar, who has been walking from Jadcherla, hoping to the touch the Nagpur highway. Although he received a movement pass from Jadcherla police station on May 7, officials have not informed him what needs to be done. "I cannot afford to wait any more, when there's almost no money. It's been ten days, so we have decided to take the long walk home. If we manage to get any vehicle on the way, we'll be more than happy to hop in," says the worker.
Ramesh is one among a group of 21 migrant labourers, who have jointly decided to go home amid the COVID-19 lockdown. Chandan Kumar, a 20-year-old worker in the group echoes Ramesh's same sentiment. "We do civil line work for buildings. We got the pass but the officials at Jadcherla police station said that we will have to wait. But, we don't have work, and money is also getting spent fast. Before it turns worse, we want to reach home," he says.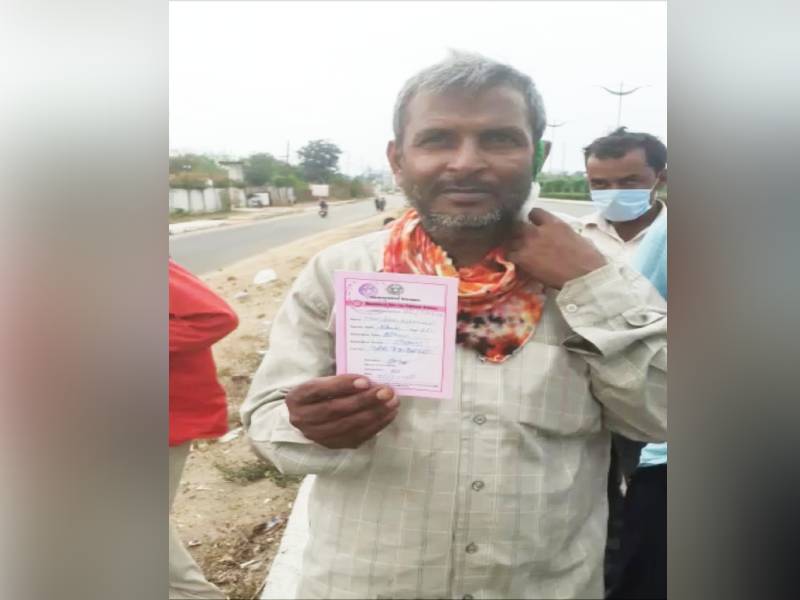 The workers agree that the situation at home is also not really good. "But at least we will have a roof above our head, and can even find some farming work in the fields back in our village," Chandan Kumar added. The last time NewsMeter contacted this group, they had started travelling in a private truck which is heading for Uttar Pradesh, from where they plan to go to Bihar.
Meanwhile, a police officer from Jadcherla police station said that migrant labourers are being sent back home via different trains, but the process is taking time because there are many labourers in the list. "In Jadcherla police station limits, around 2,000 migrant labourers are waiting to be sent home. We are not able to send them all at once, because the destinations are different. After co-ordinating the destinations and organising the number of people who need to go, we inform them a day before and arrange transport till the railway station," the police officer said.
As of May 17, the South Central Railway zone, which includes Andhra Pradesh, Telangana and Maharashtra, has transported more than one lakh passengers through Shramik Special trains. The zone had operated 93 trains till May 17. An official associated with the South Central Railway zone also confirmed that around 70,000 migrant workers have been transported via these trains. "However, it is up to the states to decide when and where these trains may function from. Within Telangana, some trains were flagged off from Ghatkesar, some others from Lingampally to avoid crowding. So, it is up to the state officials to decide how many workers can travel from where and when," he said.