Hyderabad: The National Pharmaceutical Pricing Authority, Government of India, has cracked the whip on Yashoda Hospital, Care Hospital, and Medicover Hospital for overcharging Covid-19 patients in the city.
All the three hospitals were served notices on August 10, directing them to provide details of drugs administered to the patients. They were also asked to provide legible copies of drug samples and submit all required information within 15 days of receiving the notice.
This comes after social activist Vijay Gopal had registered a complaint with NPPA on July 20.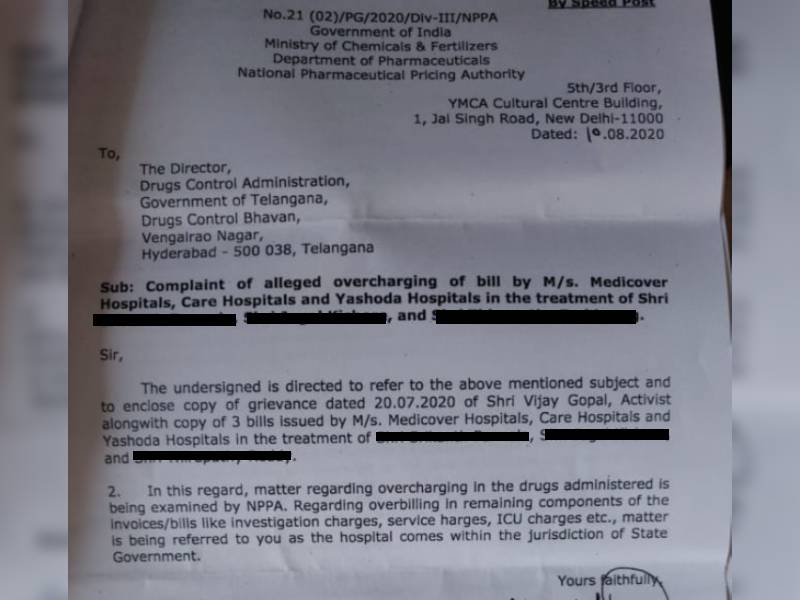 Somajiguda-based Yashoda Hospital was caught for overcharging a patient who was admitted to the institution on June 26. He was discharged four days later and was handed a bill of Rs 1,47,675.
Medicover Hospital at Hitech City received a notice for charging a patient with a bill of Rs 2,63,465. The Covid positive patient was admitted to the hospital on July 1.
A notice was also served to Care Hospitals for charging a sum of Rs 2,98,479 from a patient who was admitted to the hospital on June 3, and discharged the immediate next day, on June 4.
A copy of all three bills was accessed and verified by NewsMeter.
On June 15, the Government of Telangana had issued orders to cap the amount private hospitals can charge for Covid treatment. The government directed that hospitals can only charge Rs 4,000 per day for isolation wards, Rs 7,500 per day for ICU, and Rs 9,000 per day for ICU with ventilators.
However, several discrepancies were observed in the bills generated by these hospitals. We also observed an absurd amount being charged from patients on basic items such as surgical gloves and PPE kits. The patient at Care Hospital was billed for 140 gloves in the 22 hours he was at the hospital. The patient at Medicover was charged Rs 56,000 for 8 PPE kits.
Elaborating on the complaints filed, Vijay Gopal said, "Several citizens have been affected by the exorbitant amounts charged by these hospitals. I am glad that they have been given 15 days to clarify."
He lamented that even with the cap being fixed, the state government had failed to follow up and take action over certain hospitals. "The government had disbanded the licences of two hospitals (for treating Covid patients) but did not reveal the violations over which the action was taken," he added.