Hyderabad: From a set-boy to a film director, Venkatesh Maha, the director of C/O Kancharapalam and soon-to-be-released Uma Maheshwara Ugra Roopasya (UMUR) thinks his struggle is "too cliche" a story to be told.
"I'm actually a bit hesitant to give interviews because I am uninhibited when I speak and sometimes, it can turn controversial," said Venkatesh Maha with a disclaimer.
The director of C/O Kancherapalam has been looking forward to the release of his movie 'Uma Maheshwara Ugra Roopasya'. The film, which is a remake of the Malayalam movie 'Maheshinte Prathikaaram' is likely to be released on Netflix around July.
Those who have watched 'C/O Kancharapalam' will remember this director for the slice-of-life love story that released two years back. The movie had stolen the hearts of Telugu audience, and the standing ovation at Hyderabad's Annapurna studios after a screening of the movie was the icing on the cake. In a candid interview with NewsMeter, Venkatesh Maha poured his heart out. Excerpts:
Q: `Uma Maheshwara Ugra Roopasya' (UMUR) is soon to be released on Netflix. Why was the Malayalam movie 'Maheshinte Prathikaaram' chosen for Telugu remake and how did you zero-in on the choice?
Venkatesh Maha (VM): Usually in Telugu films, there are only heroes who are these uber-cool, macho, rough-and-tough men. I wanted to show a movie that deviated from that narrative. For instance, in C/O Kancherapalam (CoK), Raju is an ordinary man living in the village. It's not the machismo that defines him or any of the characters; it is the story in itself.
I chanced upon watching 'Maheshinte Prathikaaram' when one of my editors asked me to watch it. I absolutely loved the movie and felt that this is a story that needs to be told to the Telugu audience.
Actually, I had never thought of making a remake. But my producer Praveena and I wanted to experience with handling a bigger set. That's how we decided that we'll remake this film. The basic idea was to not disrupt the structure of the film and include 'Teluguness' to present it before a Telugu audience.
Q: Tell us about the shooting of Uma Maheshwara Ugra Roopasya?
VM: The shooting for the movie took place in Araku and Visakhapatnam. It was logistically very difficult because people took their own time to understand how we were shooting. Our phones didn't even have signals while shooting in remote places. Even while shooting CoK, we stayed at the location for three months to gauge the mood of the people. Yes, there were a lot of hardships. But we wanted the film to come out well. And it should touch the hearts of common people.
Q: What was your personal struggle like? How did you adapt to the environment in this industry?
VM: Definitely, there was a lot of struggle involved especially when you need to earn a producer's trust. Since I didn't have a film school background or connections, it was a bit hard to make people understand why and how we are trying to make films.
So, when I was 16, I left home for good. It's been 15 years now. I might have gone home only ten times in the last 15 years. My mom has struggled a lot and she was the one who looked after me throughout my childhood. I wouldn't pick her calls… it was that sort of a situation. It was almost like I couldn't talk to her until I made a mark in the industry.
Initially, she refused to acknowledge it when I set out on my own. After I got my first salary, I returned home with gifts and asked her, "Shall I stay back?" Her reply was no. "Everyone has sudden respect for you after you left home. I don't want you to lose that respect," were her words. The real struggle started from there.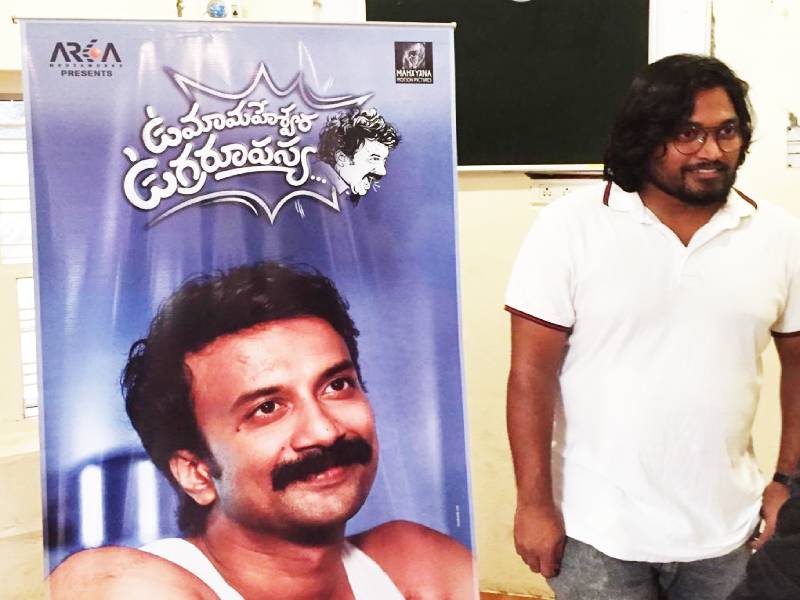 So, I took up all kinds of jobs. One was at an electronics showroom in Vijayawada, later it was at a ready-made textile showroom and then a wine shop et al. Basically, I would just quit when I got bored and search for a new job. By the time I was 21, I had worked in almost 20 different jobs. I knew that I always wanted to do films. But I was so scared to come to Hyderabad at first. Later on, my urge to get into films was intensifying and I finally decided to shun inhibitions and come to Hyderabad. I would go for auditions while working side by side. I have also acted in a movie standing next to the hero actually.
There were days when I would go to work, log in, and then go for shooting, return, and sleep for two hours. And when I look back, such experiences have been really helpful for me.
Later, I got to know that you'll get work if you are at Krishna Nagar near Jubilee Hills at the right place at the right time. So, if you go there at around 4.30-5 in the morning, you can find people crowding the particular area. Basically, people are taken from there to various shooting sets. And it happens even now. It was from here that I got a chance to be a set boy in Pawan Kalyan's 'Teen Maar movie'. For Rs 150 per day, I worked as a set boy and this continued for the next 4-5 months. This helped me pick some contacts. Later, I began to work as an assistant director in TV shows and worked as an assistant director for the Rangam dance show as well.
Q: Discussions around nepotism in the film industry are raging everywhere. Your take?
VM: Nepotism is not just in films, but everywhere. I have seen a lot. Some have got things moving for them in the industry because they were sons of someone. People may underestimate you because you don't have a film background.
But on a personal level, I think it has been good for me. Because if something happens easily, you don't learn. On the other hand, if you want to do something and work hard, you will learn a lot of things. I have friends who are film school grads and have spent a lot of money on their education. In contrast, I did not spend a penny on this. In fact, the way I see it is that I got paid to learn. I was a set boy, but I was trying to gain knowledge and learn about films. And it becomes tough only when you are not ready to go through this.
Of course, you couldn't really be a part of intellectual film discussions with your peers, who are educated at institutes. But I was learning in a more practical sense. This is not to downplay the importance of learning in film institutes. When I got the chance, I pursued a course in screenwriting in the US.
Q: C/O Kancherapalam talks about love transcending boundaries, caste, religion, and age. What is your comment on such unconventional love stories in real life?
VM: I would say that society is definitely evolving; it is a work in progress. It has not been easy in the past, as the film shows. I have friends who have converted for love and it is something that is handled differently depending upon the context. I wanted to address one of those taboos: to marry a widow. The film shows that with a purposeful ending. It helps to portray it in a manner where the whole society is also supportive of the couple's decision. I have been able to show this because society is ready to accept change in some sense at least.
Q: Regional films have begun speaking about caste discrimination with movies like 'Sairat', 'Asuran'. How has the Telugu film industry evolved to touch such issues?
VM: It is certainly a welcome move, a representation that has been long overdue. But having said that, these films need to come out from every region including ours. Few filmmakers talk about the realities of Dalits. Some others always show pain and poverty. Have you ever come across a movie showing a Dalit win? Not enough of such stories are coming out. Filmmakers need to learn how to introspect, even if that means criticizing themselves or where they have come from. Healthy criticism is absent in our film culture. For instance, the 1980 film Shankarabharanam is hailed as a musical among the Telugu audience. In the story, a Brahmin musician brings a devadasi woman in the house and that was progressive in that era. But ultimately, the film is remembered for its Carnatic music among the Telugu audience and not about its narrative which was unconventional. In that sense, we need more impactful movies that can bring about more discussions and change. And I'm pretty sure that there will be change, because we are just a 70-year-old nation, and it takes time for such in-built discrimination to be erased from the face of the earth. America is still struggling with racism. We have a long way to go.
The audience is not stupid. We don't really have to thrust the message on their face. As filmmakers, we just have to incorporate the qualities that we want to breed in society without thinking whether it is in society or will people accept it. People will relate to the goodness in that character, will imagine their qualities, and go out of the theatre with a new character. That will make a good film and people will enjoy it.
Q: The female characters in CoK have been memorable. What was your thought process while developing those characters? Your take on misogyny and representation in films?
VM: My producer Praveena used to say most Telugu films have these toxic messages where women don't really have a voice and the hero is just as bad as the villain. I have to agree with her. The films in the last few decades give the audience the message that you are not enough as a man, a woman, or anything. Apparently, a good life is led only by these actors in films. Even I've felt sad when I think about how I couldn't hit ten people at a time. But in my movie, I just wanted to tell the audience that they are enough. You don't need to run hard or struggle for a six-pack to be 'good' like they say. You are good as you are.
And as far as misogyny is concerned, I think filmmakers do have to take some responsibility for what they are showing. You cannot show a consistently flawed character, glorify them, and then say 'it is just a film'. Films should be about change, transformation, and it should show that, is what I think.
Q: What advice do you want to give someone who wants to make it big in films?
VM: I'd say take risks. Experiment with yourself. You learn a lot from experiments. Say, you are in love with a girl. Try spoiling your relationship for one day and then you get a new perspective. But it is also important to take responsibility for your experiments and own up your mistakes. That is the only way to learn.
The other thing that I would advise anyone who wants to have a career in films, is to get used to the work environment. You have to know how hierarchies work and how to please your bosses. You need to learn to stand up for your own story first and then you can convince another person to trust you and support all your ideas. And if you believe that everything is right on your side and your producer is not agreeing, it means you need to find another producer who understands better.