Hyderabad: Panic gripped a locality in Secunderabad after a man with COVID 19 like symptoms died on Sunday.
The deceased is the husband of a reputed doctor in the area. He had a travel history to Calcutta. After his return to Hyderabad, he complained of high fever and body ache.
"Though he was initially admitted to Apollo, the hospital authorities asked to shift him immediately to Gandhi as he had symptoms of Corona. However, the doctors at Gandhi said since he has no chance of survival, they could not risk to put him on a ventilator," tweeted Anirudh Kokala, a family friend of the couple.
Later he was brought home and he died on Sunday. At the time of death, he had a high fever, body ache, and cough.
Sensing trouble, people in the neighborhood of AP Text Book Colony Karkhana demanded coronavirus tests for the deceased or his wife.
People also alleged that the helpline provided by Telangana government is not responding to their calls.
"We're trying to get him or his wife tested for COVID. I'm worried about my parents and my community. I sincerely request authorities to pay utmost attention to this situation," Anirudh said.
The wife of the deceased is a general physician who works in a clinic at Secunderabad. She has been in contact with the patient over the past few days.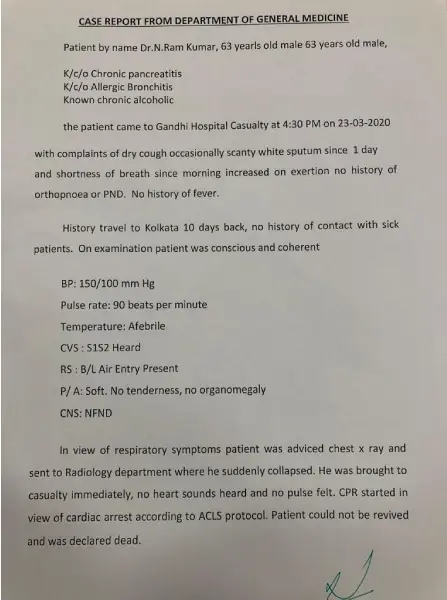 Responding to the complainant, Director of Digital Media, Telangana government Konatham Dileep said the health department will contact the family soon.