Hyderabad: Paradise biryani has always been famous, especially as a must-have cuisine in Hyderabad. However, recently, Paradise restaurant has gotten itself into a sticky situation. Greater Hyderabad Municipal Corporation (GHMC) fined the restaurant Rs 1 lakh on Thursday in Hyderabad. Reportedly, GHMC authorities raided Paradise Food Court in Secunderabad after a couple complained that they found hair in their biryani while dining at the restaurant.
It has led to other troubles for the famed eatery. GHMC authorities, alongside food inspectors, found single-use plastic and rotten vegetables in the, apparently, unhygienic kitchen. Taking note of the unhealthy conditions, the municipal corporation fined the restaurant a hefty sum of Rs 1 lakh.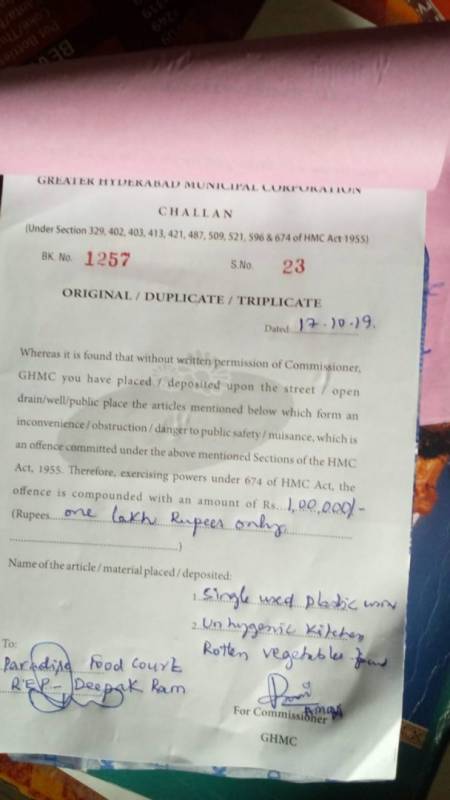 E Sudharshan Reddy, Gazetted Food Inspector from GHMC, told NewsMeter, "On Wednesday, we received a complaint stating they found some hair in the biryani they ate at Paradise Hotel in Secunderabad. When we conducted inspections today, we found single-use plastic and rotten vegetables in the unhygienic kitchen. We also discovered that they are using crystal salt instead of iodised salt."
Food Safety and Standards Authority of India (FSSAI) and State Food Authority are jointly responsible for implementing and enforcing the FSS Act 2006. However, a consumer rights activist alleged that the enforcement is not being implemented properly due to which restaurants and hotels are violating the norms.
In a separate incident, Cafe Bahar located at Sitaram Ram nagar was fined Rs 1 lakh for running the hotel sans trade license, unhygienic conditions and no segregation of waste.
Srikhande Umesh Kumar, founder of Know Your Rights NGO and a certified consumer protection activist, told NewsMeter, "It is a consumer's right to have safe and hygienic food from eateries. However, due to a lack of food safety officers is allowing restaurants to flout the norms, believing there won't be any regular inspections. Now and then, food containing insects, cockroach, hairs, etc., is reported in and around Hyderabad. However, the Assistant Medical Officer of Health doesn't act proactively and file cases. Food Safety Commissioner should ensure that regular inspections are conducted on eateries."
Meanwhile, in a separate case ,the GHMC has fined Rs 3 lakh KLM Fashion at Chanthanagar for flashing video display.