Hyderabad: Around 20 parents staged a protest at the office of the directorate of education in Gunfoundry, Hyderabad, on 20 August demanding action against Gitanjali group of schools and other private schools for violating rules and regulations regarding admission fees and online classes.
During the pandemic, over 715 parents had formed a group to fight against irregularities in school fees. The DEO had received several complaints of schools violating rules related to admission fees and online classes during the pandemic which directly violated the government order directing all schools not to raise the fees. The order also stated that schools should collect only tuition fees that too on a monthly basis.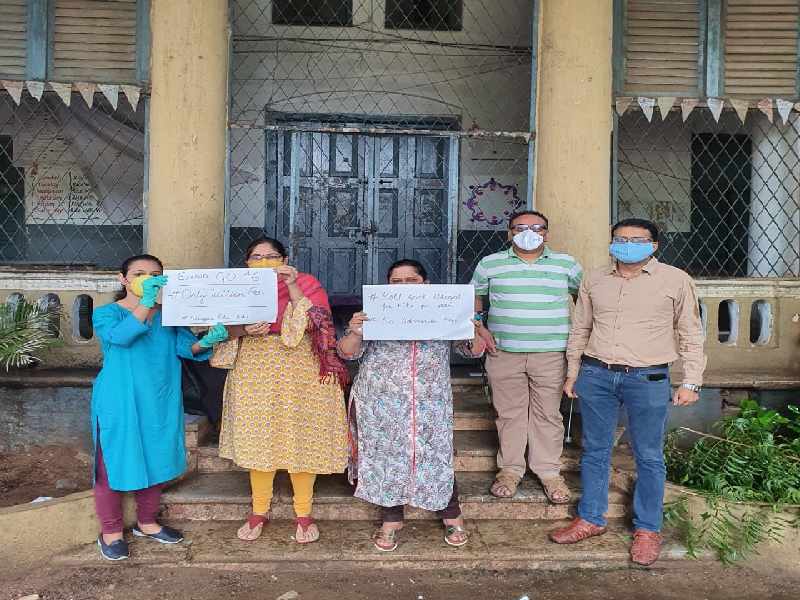 "We submitted various documents to the DEO two months ago showing irregularities committed by private schools like collecting admission fees. The schools made no provisions to allow parents to pay the fees in monthly instalments until the parents filed complaints. The Gitanjali schools are falsely presenting aggregate amounts of different types of fees as annual tuition fees," said a parent.
Already private schools are charging excess fees in the name of tuition fees even though the government has already asked schools not to collect other fees besides tuition fees.
Another parent told NewsMeter, "Gitanjali school stopped online classes for several students in June due to non-payment of the full fees despite the government order asking schools to reduce fees in view of the pandemic. This is a violation of child rights and the right to education. Private schools like Gitanjali have been collecting Rs. 1,00,000 as fee in violation of the government order. Around 715 parents have joined this fight against private schools who are charging excess fees."