Hyderabad: The Central Bureau of Investigation booked Hyderabad based GVK group's chairman G Venkata Krishna Reddy and son G Sanjay Reddy for siphoning off funds to a tune of Rs.750 Crore. The money was meant for the development of Mumbai International Airport. The investigating agencies also registered a case against 9 companies in connivance with the GVK group.
In 2006, the Airport Authority of India and GVK Airports Holdings Limited formed a joint venture under Public-Private Partnership (PPP) for upgradation and maintenance of the Mumbai airport. This led to the setting up of Mumbai International Airport Limited (MIAL). The job of modernization, upkeep, operation, and maintenance of MIAL was accorded to promoters of GVK group.
Investigators found that the promoters of GVK group abused the Operations, Management, and Development Agreement (OMDA) provisions and misused funds of MIAL. "The company (GVK) entered into an agreement with a company owned by family members to book train/air travel tickets and hotel booking for all the personal as well as the group employees of GVK who are not connected with the affairs of MIAL. As per source information, Ms/ Orbit travel and tours private limited is one such company which arranged for such travel/stay and has been paid by MIAL" said the CBI officials in the FIR.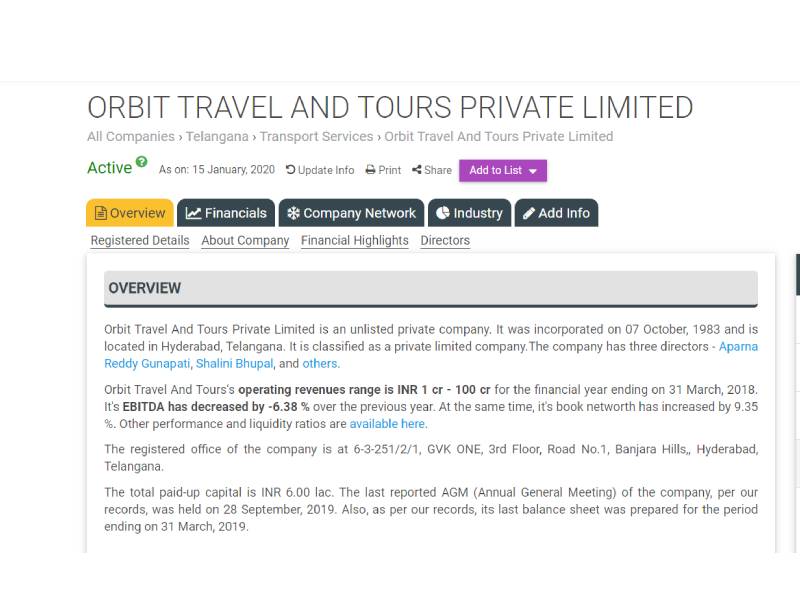 Inquiries revealed that the company M/s Orbit Travel and Tours directors are G. Aparna Reddy (socially known as Pinky Reddy), Shalini Bhupal, and Shreya Bhupal.
According to the company details, the longest-serving director currently on board is Aparna Reddy Gunapati who was appointed in 1989. While the most recently appointed is Shriya Bhupal. Further, Shalini Bhupal has the largest number of other directorships with a seat at a total of 56 companies. In total, the company (Orbit Tours and Travel) is connected to 80 other companies through its directors.
GVK group's role in the fraud
Sources informed the CBI that from 2012 onwards, the GVK group with criminal intimidation cause loss to AAI. It used surplus funds of MIAL to a tune of Rs 395 crore to finance their own group of companies. GVK created forged board meeting resolution with MIAL authorizing to keep the reserve as Fixed Deposit Receipt (FDRs) with Public Sector Undertaking banks in Hyderabad. Further, the group raised loans against these FDR's and used these funds for the benefit of their Hyderabad based GVK group companies at the expense of MIAL.
Investigators found that the fraudulent act was in connivance with the employee of AAI. The promoters of GVK and 9 other companies cause wrongful again of Rs 705 Crore. The CBI has booked a case under section 120 B, 420, 467, 468, 471 of IPC and 13 (2) r/w 13 (1) (d) of Prevention of Corruption Act.
Meanwhile, in response to the case, the spokesperson for Mumbai International Airport Ltd (MIAL) said, "MIAL is surprised to note the registration of case by CBI against MIAL and others. MIAL would have provided every assistance had the agency sought explanation or any document even if a preliminary enquiry had been initiated. MIAL is a transparent and responsible corporate entity which is committed to co-operate with the agency in its investigation to arrive at the truth."