Hyderabad : The Centre on Tuesday made it clear that it is the Andhra Pradesh government that will decide its capital within its territory.
The statement put on the floor of the house indicated enough, that the Prime Minister Narendra Modi led BJP government, in power, is not likely to intervene in the decentralization of Andhra Pradesh capital that has taken many by storm.
Also, the response of Nityanand Rai, minister of state in the ministry of the Home Minister in the parliament, mirrored Centre's stand to Chief Minister YS Jagan Mohan Reddy plans to built three capital cities.
On February 4th, during the Lok Sabha session, TDP MP Jayadev Galla who is spearheading the protest against three capital cities in Andhra Pradesh questioned the Centre on if the government has taken note of the recent decision of CM Jagan and if so what is the reaction of the Centre
To which the minister replied, " Government of Andhra Pradesh had notified Amaravati as the Capital city, vide its GO dated April 23rd 2015. Recently media reports have appeared indicating the state governments decision to create three capitals for the state of AP. It is for each state to decide its capital within its territory'.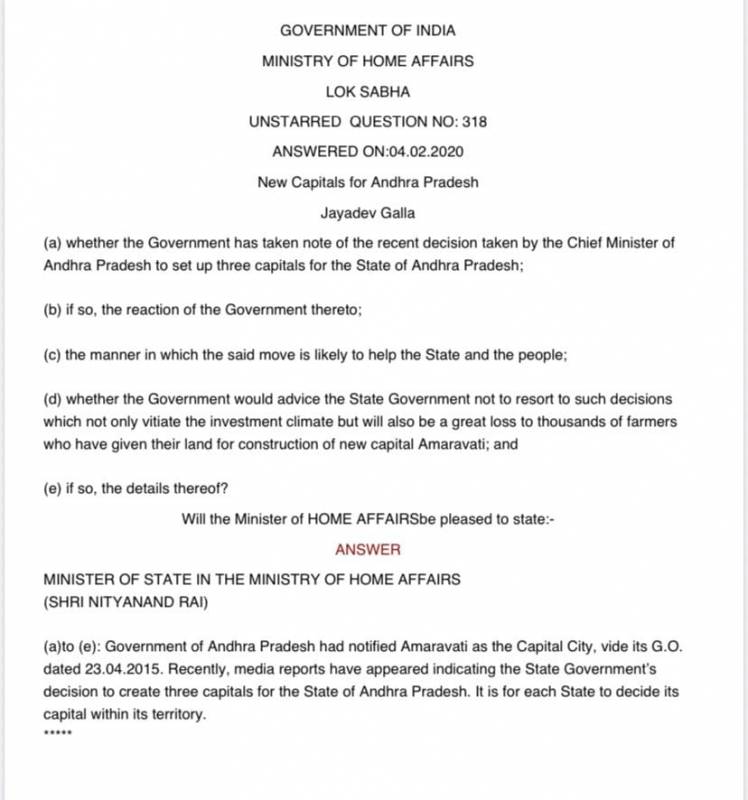 However, the Centre avoided other questions, like, whether it would advise the AP CM not to resort to such decisions ( referring to decentralization ) which may vitiate not only the investments climate but also be a great loss to thousands of farmers who have given their land for construction of new capital Amaravati.
The Centre also made it clear that law and order is a state subject. While responding to a question on why no action has been taken against a number of protest in Andhra Pradesh, Centre said , " The Central government monitors the law and order situation across the states and deploys additional forces on the request of the state government'.
Decentralization of AP Capital
The State Government has approved the High Power Committee (HPC) report during the recent Cabinet meeting chaired by Chief Minister YS Jagan Mohan Reddy.
The Cabinet gave an overwhelming nod to the three capitals proposal after which Visakhapatnam will be the Executive capital; Kurnool Judicial Capital and Amaravati the Legislative Capital.