Hyderabad: A case has been registered against TRS Ibrahimpatnam MLA Manchireddy Kishan Reddy, Assistant Commissioner of Police V Yadagiri Reddy and Inspector P Guruva Reddy of Ibrahimpatnam police station, for allegedly abusing a woman MPP. A case under charges of abusing the lady in the name of her caste and voluntarily causing hurt to her, has been booked.
On Thursday, MLA Sri Manchireddy kishan Reddy along with TRS leaders visited Nandhiwanaprthi village in Yacharam Mandal, for the ground breaking ceremony of a road. The stretch is between Nandhiwanparthi village and Medipally village (Pharama city road). It so happen that, Koppu Sukanya, MPP Yacharam, was shocked as the program was organized without following the protocol.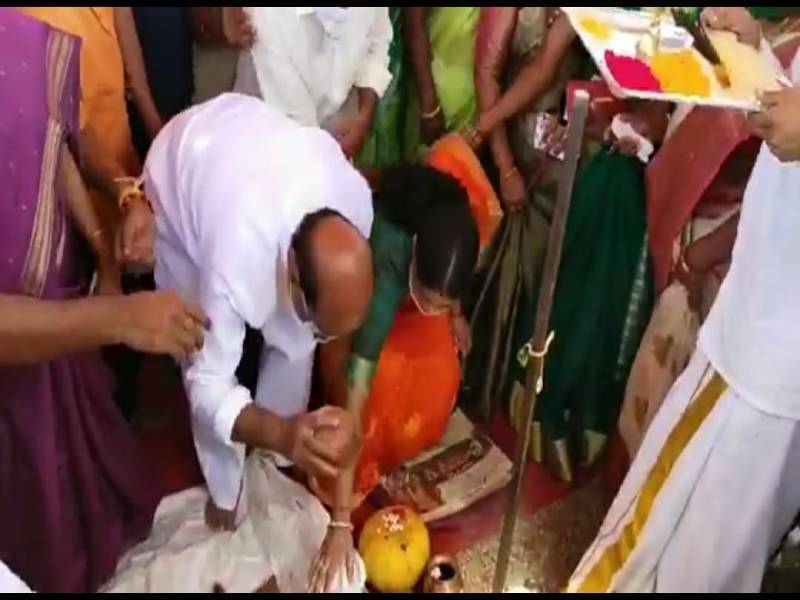 She alleged that no invitation was extended to her, despite she being the local representative. The ceremony turned ugly when Koppu Sukanya visited the inauguration site. She was accompanied by her husband Koppu basha and local BJP leaders. Supporting Sukanya were farmers, who complained of losing their land to the new road. They questioned the MLA for not following the protocol.
The lady alleged that the TRS MLA who failed to follow the protocol, told her ''Nee Paatra Emeeledu'' ( you have no role) and pushed her away. A video of them fighting went viral, the two ended up in a brawl with her objecting the ground breaking ceremony. She alleged that the MLA intentionally insulted her to humiliate her in the full public as she belongs to SC (Mala) Community.
'The MLA stopped me and went ahead with the ground breaking ceremony , though I kept my hand over the stone meant for breaking the coconut, the MLA deliberately hit the coconut on my hand. I suffered injuries on my left hand. Meanwhile, the police present at the spot dragged me out of the place by force. Further, ACP ibrahimpatnam and CI Ibrahimpatnam was involved in the same' said the lady.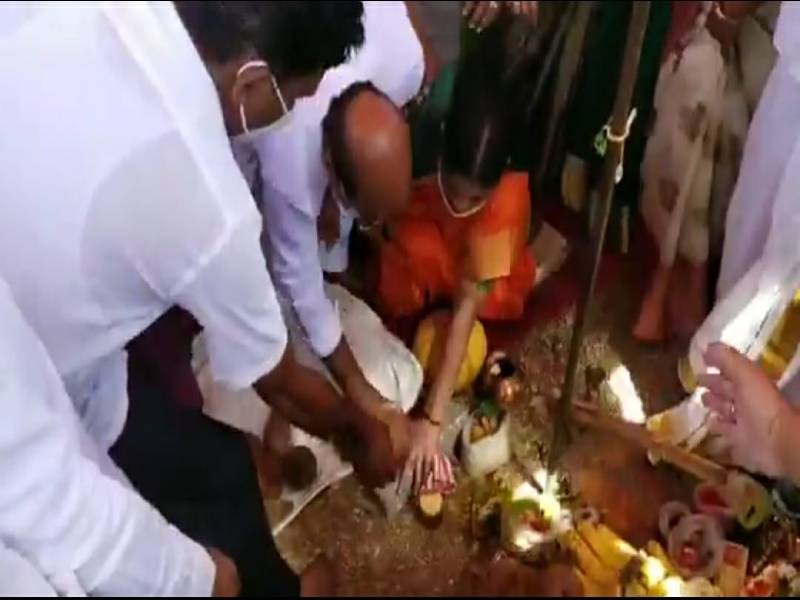 The high drama resulted in impacting her health. The lady fell unconscious and was rushed maxi cure hospital for treatment . Later on Friday evening she lodged a complaint seeking action.
Based on her complaint, Yacharam police registered a case under sections 323 of IPC and 3(1)(r)(s) of SC& ST (POA) amendment act 2015 and started investigation.