Hyderabad: Several Telangana Congress leaders have been placed under house arrest and huge force were deployed outside their residences to foil Krishna Jala Deeksha (Fight for Krishna water).
Deeksha call was given in protest against the alleged corruption in various irrigation projects in Telangana and the negligence in the execution of works in the state.
Additional forces were deployed at the residences of Nalgonda MP and TPCC Chief N Uttam Kumar Reddy, Bhongir MP Komatireddy Venkatreddy, former PCC Chief Ponnala Laxmaiah, and several other leaders.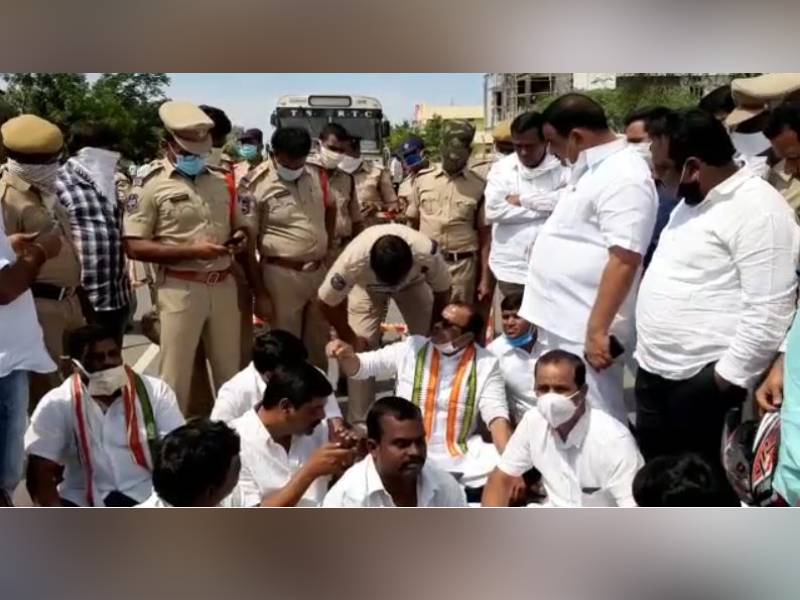 Police teams also barged into the residence of former Kalvakurthu MLA Challa Vamshichand Reddy and foiled his Deeksha attempt. He was also placed under house arrest. TPCC Representative G Harshavardhan Reddy was also placed under house arrest.
"At a time when the state is celebrating its sixth formation day, this government is suppressing the rights of the people," said TPCC chief Uttam Kumar Reddy.
TPCC chief said Telangana is witnessing an autocratic rule now. "This is not the state for which so many people have sacrificed their lives. The state is now being ruled by a dictator," he said.
Uttam demanded the withdrawal of police forces from the residences of Congress leaders. He also demanded that they should be allowed peaceful protests.