Kolkata: Some protesting students heckled union Minister Babul Supriyo on Thursday at Jadavpur University in Kolkata, West Bengal. The incident took place when the BJP MP from Asansol reached the campus to attend an event organised by the RSS-affiliated Akhil Bharatiya Vidyarthi Parishad (ABVP).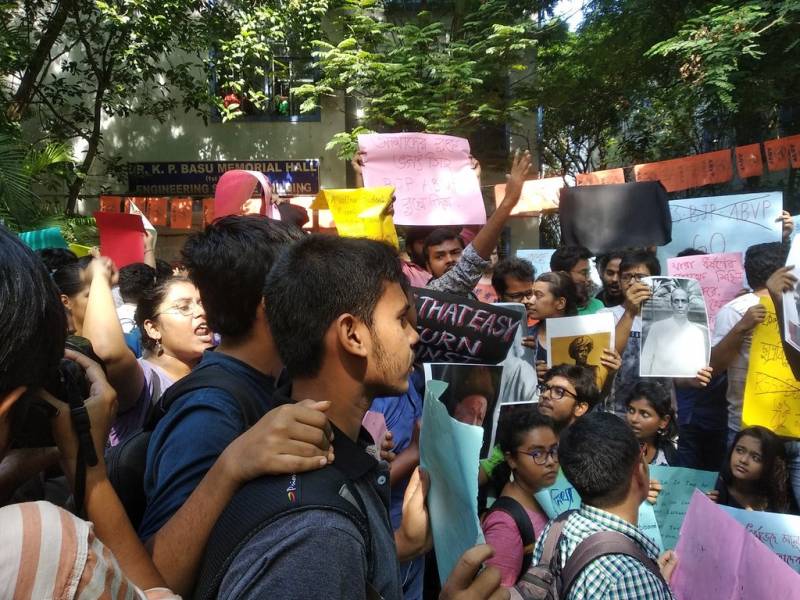 Hundreds of students surrounded Babul and raised slogans against him and soon the massive sloganeering led to a ruckus. The members of the Students' Federation of India (SFI) and the All India Students' Association (AISA) said that Babul is not allowed inside the university campus. JU Vice-Chancellor Suranjan Das tried to intervene, but it was in vain, as the protest continued for nearly an hour. Finally, the BJP leader entered the auditorium where the ABVP organised a seminar on 'Governance in post-Independent India'.
After the incident, Babul took to Twitter and wrote that to keep democracy alive, an opposition is equally relevant like a ruling party, and they should be carefully heard.
ये कुछ भी करले उकसा मुझे पाएंगे नहीं।

लोकतंत्र को जीवंत बनाए रखने में विपक्ष की भूमिका सत्ताधारी दल की तरह ही काफी अहम है, तथा मतभेदों को धैर्यपूर्वक सुनना भी आवश्यक है।

इस तरह का व्यवहार अनुचित तथा निन्दनीय है।@BJP4India @ABVPVoice @BJP4Bengal @KailashOnline @BJPLive pic.twitter.com/tTyYdql2WU

— Babul Supriyo (@SuPriyoBabul) September 19, 2019
Meanwhile, Press Secretary to West Bengal Governor Jagdeep Dhankhar said, "With respect to the 'gherao' of Union Minister Babul Supriyo by a section of students, the Governor of the State has taken a very serious view and has spoken to the Chief Secretary of West Bengal." The Governor is now headed for the Jadavpur University.