Pulivendula SI does a heroic feat, clings to car bonnet for 2 km while chasing criminals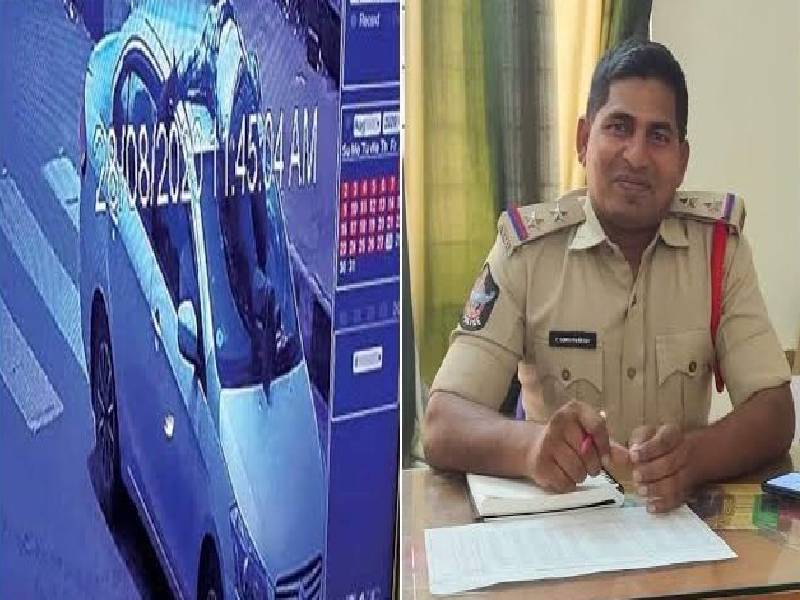 Kadapa: In a model act of courage, a sub-inspector, Ch. Gopinath Reddy, from the Pulivendula police station in Kadapa district, Andhra Pradesh, stuck to the bonnet of a car for over 2 km to nab a liquor mafia gang of Telangana state.
Kadapa SP K.K.N. Anburajan, on Saturday, said that senior police officials on Thursday morning got concrete information about the illegal shifting of liquor to Pulivendula from Kondapur village and alerted the local police.
Based on the information, the Pulivendula police, led by Ch. Gopinath Reddy, immediately began vehicle checking on the outskirts of Pulivendula to seize the illegal liquor.
Reddy noticed a car (Maruti Suzuki Ciaz) heading towards the check post and tried to intercept it. The driver slowed down the car and Reddy reached the vehicle. Suddenly, the driver hit the accelerator to escape and the young and brave SI, Gopinath Reddy, jumped on to the bonnet of the car and clung on to the vehicle as it sped for nearly 2 km.
In the mean time, the SI managed to break the windscreen of the car and enter inside the vehicle.
The remaining police team chased the car and brought it to a halt. Reddy suffered some injuries on his leg, elbow and stomach in the incident.
The police managed to arrest one of two persons in the car while the other, V. Nageswara Reddy, owner of the car, fled the spot.
The police seized 80 bottles of liquor from the car and a case has been registered. Other police officers in the state appreciated Gopinath Reddy for his bravery.