Hyderabad: Taking a U-turn from its 'masks-only-for-sick' policy, the Telangana government announced that masks need to be worn when people venture outdoors. Calling it the 'MaskOn' policy, the state said that "the earlier advisory on "masks only for the sick' is being updated to Mask On- while stepping outdoors, in closed spaces and while interacting with others."
The Health Medical and Family Welfare department of Telangana further stated that this decision has been taken based on the understanding that a large number of people even without showing any symptoms of COVID-19 may act as carriers of the infection and may transmit it to others.
It also cited studies conducted in japan, which showed a decrease in spread of COVID-19 due to wearing masks.
All citizens have been asked to follow the 'Mask On' policy in order o prevent spread of COVID-19 droplets while sneezing, coughing and talking.
The health department said that Cotton double layer re-usable masks are recommended for use as the first line of protection.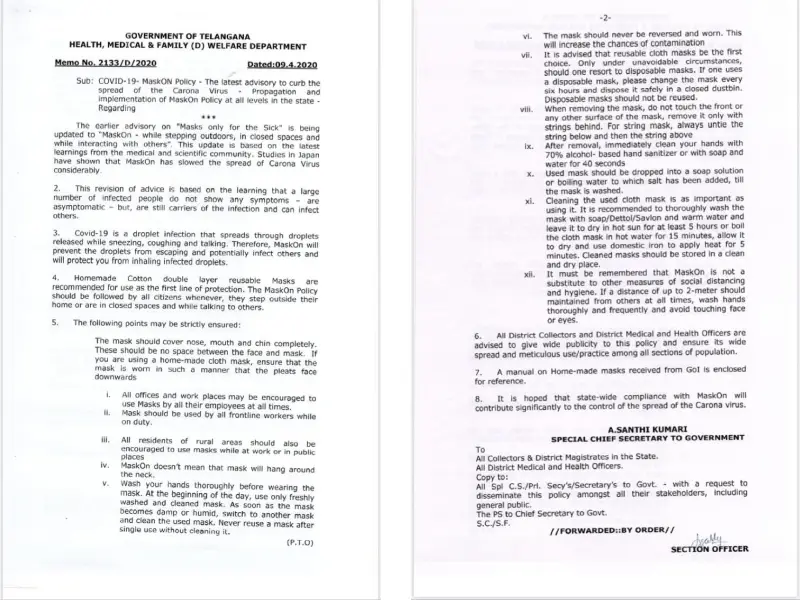 Points to be noted:
1. Mask should cover the nose, mouth and chin completely, with no space left between the face and the mask. Pleats should face downwards in case of home-made cloth masks.
2. Wash hands thoroughly before wearing the mask.
3. Mask should not be reversed and worn, since it may increase chances of contamination.
4. Re-usable masks are preferred over disposable masks. Disposable masks should not be re-used after one-time use.
5. Remove masks by untying the strings. Do not touch the front side of the masks, since they may be contaminated.
6. Hands need to be washed thoroughly after removal of mask. The health department recommends, "Clean your hands with 70 percent alcohol-based hand sanitiser or with soap and water for 40 seconds."
7. In case of re-usable masks, it should be washed in soap solution or boiling water with salt added. Cloth mask may be boiled in hot water for 15 minutes, and then ironed.
8. After washing re-usable masks in Dettol/Savlon, it should be dried in the sun for at least 5 hours.
9. Masks should be stored in a clean and dry place.
10. All employees must ensure wearing masks in workplaces.