Hyderabad: Assistant Commissioner of Police Nayini Bhujanga Rao serving in the Rachakonda Commissionerate has been awarded the Indian Police medal for his meritorious service.
The award winning officer served as the investigator in the brutal rape and murder of three girls belonging to Hajipur village falling in the commissionerate limits. The extraordinary work of the team led by the officer resulted in the death sentence of the accused.
The horrific crime was committed by Marri Srinivas Reddy, who was awarded death sentence on February 6 after the court in Nalgonda found him guilty of rape, kidnap and murder in three cases involving minor girls aged 14, 17 and 11 at Hajipur village of Yadadri Bhongir district of Telangana.
Talking to the NewsMeter N Bhujanga Rao said, "This was one of the most crucial cases I have investigated in my 28 years career. In three months, the entire investigation was completed and the team were able to file a charge sheet for all the three cases. The court trials took four months". The officer recalled how he would attend the court every time the case was up for hearing. 'This was the first time a accused was sentenced death penalty for rape and kidnap of two girls and lifetime imprisonment in one case."
The Judgement of the Nalgonda court was forwarded for the confirmation to the Telangana high court. Due to the COVID-19, the death penalty confirmation is still pending in high court.
On acknowledging the Indian Police medal, N Bhujanga Rao expressed his gratitude to the police department and Commissioner of police –Rachakonda Mahesh Bhagawat. He said "I feel immensely grateful to the department that I served for 28 years for recognizing my work. I am so happy, and these medals give more responsibility to the person. I am thankful to Commissioner of Police, Rachakonda and Director General of Police, Telangana, M Mahendra Reddy."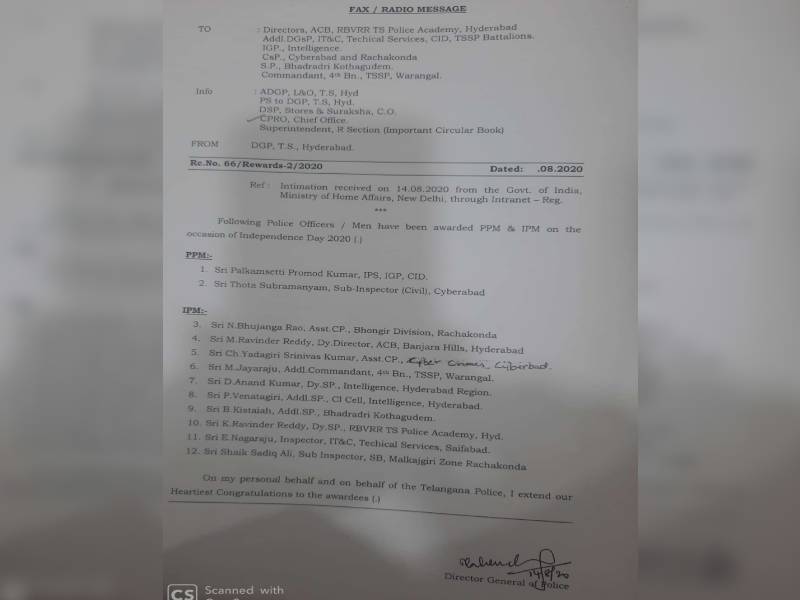 On August 14, Ministry of Home Affairs released the list of medal awardees. Telangana State Police bagged 14 medals. Sub Inspector Mogulla Venkateshwar Goud and Head Constable Mohammad Meharajuddin are awarded Police Medal of Gallantry. While senior officer P Promod Kumar, IG, Hyderabad and Thota Subramanyam, Sub Inspector civil, Cyberbad are awarded the President's Police medal of distinguishing.
This independence day, 631 Police medals were, of which Ten cops from Telangana bagged the Medal.