New Delhi: At the commissioning ceremony, Mr Rajnath said, "We are committed to far-reaching changes in our defence preparedness." He highlighted the government's efforts in providing the latest weapons and equipments to its forces.
Touching upon the origins of the name Khanderi, Mr Rajnath Singh said that the name was inspired from Khanderi, the Sword Tooth Fish that is known for its hunting abilities, as well as from the island fort Khanderi built by the Maratha ruler Chatrapati Shivaji.
Mr Rajnath Singh said, "Shivaji was a man of great valour, courage and determination. He was one of the first Indian rulers in medieval times to recognise the importance of a strong Navy. Commissioning of INS Khanderi will bring same valour and sharpness back on sea."
INS Khanderi is a follow-on of the INS Kalvari belonging to the diesel electric submarine class. INS Khanderi was first put out to sea in 2017 and has undergone comprehensive sea trials, torpedo and missile firings since then.
At 67.5 meters long and 12.3 meters high, it was handed over to the Indian Navy on completion of trials on September 19, 2019. The induction of INS Khanderi is considered to be a matter of pride owing to its operational efficiency and preparedness prior to its commissioning.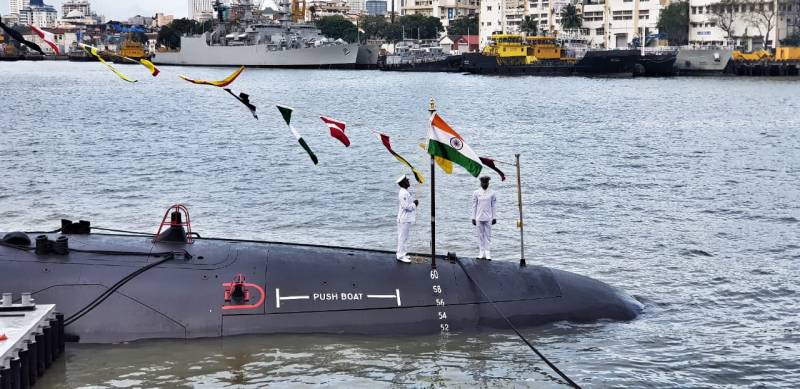 Mr Rajnath Singh said that a confident Navy cannot exist without a confident government. Which is why the defence forces and the government need to support each other for the greater interest of the nation. Reiterating that the nation is fully equipped to face any threat to its security, he also called for every citizen of the country to be on guard against challenges from across the border. He concluded with the assurance that the Indian Navy strives to build mutual trust and confidence among the nations in the Indian Ocean region.
Also Read: https://newsmeter.in/army-officer-killed-in-helicopter-crash-on-his-birthday/